64 basketball games over the course of 12 days? March Madness is the definition of a sports fan's dream come true.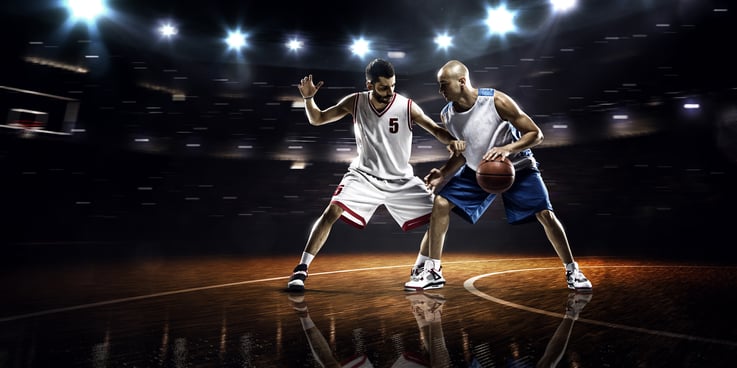 64 basketball games over the course of 12 days? March Madness is the definition of a sports fan's dream come true. With the average employee spending 6 working hours watching March Madness while on the clock, this magical 3 weeks in the spring may mean a drop in workplace productivity, but a boom for advertisers hoping to cash in on the action.
The following 3 tips are a winning formula for breaking through the noise and reaching the fans while they enjoy The Big Dance:
It's TV time!
There is nothing quite like sitting down in front of the TV to watch the big game. In 2019, an average of 10.5 million viewers per game tuned in to the NCAA Tournament. And while I cannot advocate anyone spending 100+ hours in front of their television, it's safe to say that March Madness is about as prime time as you can get when it comes to reaching a wide audience. 65% of overall viewers still watch March Madness on cable TV, making it by far and away the favored platform for watching the NCAA tournament, particularly with adults 35+.
OTT all the way baby!
One could say that March Madness has been at the forefront of the streaming game by giving dedicated employees the chance to watch the games from their computers at work. Starting in 2006, March Madness Live, the cross-platform service provided by Turner Broadcasting, CBS, and the NCAA gave us the live-saving Boss Button for those awkward moments when you don't want to be included in the $13.3 billion lost revenue during the tournament. While a game changer for sure, March Madness Live falls into the TVE category, meaning you have to have a cable subscription in order to watch the games. While this means that you will certainly have the ability to extend your cable reach, you don't want to miss out on the coveted cord-cutter audience. This is when OTT checks into the game. Platforms like fuboTV, DirectTV Now, Hulu, and SlingTV allow anyone with a device and internet access can stream their teams as they make their way through the tournament. More screens watch March Madness mean a larger audience for advertisers, particularly when it comes to reaching the coveted 18-34 demographic, who favor streaming 52% vs 45% who prefer cable.
Pre-roll Video for the win!
For the fanatics who can't seem to get enough, or missed out on watching the game live, there are an endless number of websites that all March Madness, all the time. Why not catch customers while they're watching highlight reels from earlier games, locker room interviews, or post game commentary with some well-placed Pre-roll ads?
Teamwork makes the dream work
Basketball is a perfect example of the magic of individuals working together as a team and your advertising strategy for reaching March Madness fans should be no different. A 2018 Nielsen cross-platform study said that over 175 million fans engaged with the NCAA tournament across all networks and platforms, so making sure that your advertising campaign hits all screens will be your best bet for March Madness success.
Don't know where to begin? Let Viamedia be the 6th man on your team.