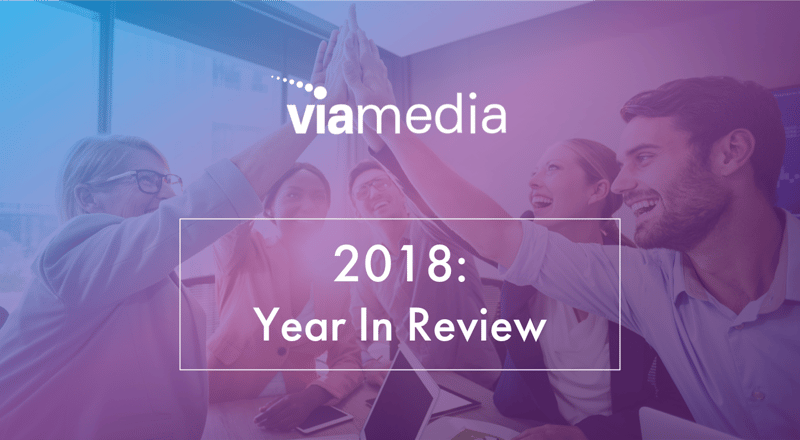 What a year it has been! 2018 has been an exciting year for us all here at Viamedia, full of growth, innovation, and big plans. We couldn't do it without our employees, clients and partners — so we want to say a BIG heartfelt thank you for being with us on this journey. Let's take a look back at all the milestones we've accomplished together!
Every decision we make derives from our core mission to deliver effective cross-media strategies for our advertisers while increasing value for partners, employees and shareholders.
While staying true to our core beliefs, in 2018, Viamedia invested in people, platforms, technology and efficiency-driving enhancements to improve our service back to our employees, clients, and partners with new platforms such as the CMP (Cross Metrics Platform), an improved XMetrics™ Dashboard and BIG IO order entry system.
New/Improved Platforms
In September, after months of rigorous testing and process analyses, Viamedia launched the Cross-Media Platform (CMP), an automated solution that streamlines Viamedia's TV and digital advertising campaigns. The platform enables Account Executives to manage their pre-sale research, campaign orders and post campaign analyses all in one interface that delivers superior performance, transparency, and control to its users while driving results for our clients. Within the first 3 months of it's launch we have already seen an increase in campaign performance, customer and employee satisfaction.
Continuing to focus on efficiency enhancements, in November Viamedia rolled out Version 3.0 of our BIG IO order entry software system that further automated and streamlined the campaign entry process - shortening the launch window for a campaign to "go live", from 72 hours to 24 hours. Version 4.0 followed shortly after with new quality control features adding another layer of order accuracy verification.
Also in Q4, Viamedia launched upgrades to the XMetrics™ Dashboard, a Cross-Media Reporting Dashboard that offers our customers' transparent campaign analysis on-demand. The Dashboard allows customers to take a deep dive into all of their media campaigns to see which strategies are generating opportunities and which need to be tweaked. Upgraded reporting functionality was added for overall KPI performance insights and additional report templates were developed to help our clients keep track of how their cable TV and digital campaigns are working together.
Expanded Product Offerings
This year, Viamedia continued to focus on adding new cutting-edge products for our advertising clients. Since January we have added 8 products to our client ad offerings: OTT, Cross Connect (Authenticated IP Targeting), Facebook, Instagram, YouTube, SEO, mobile "Tap to Expand" and full service email marketing.
With our Cross Connect and OTT product, we are now able to offer TV & digital advertising in any state, DMA, county, or zip code in the country.
New/Expanded TV Partnerships
Viamedia remains focused on finding ways to drive revenue for cable, telco, fiber, OTT and premium video providers. With our local sales staff's pre-established client relationships, our technology equipment cost savings, national revenue and backend traffic & billing support, we are able to help video providers focus on their core business while still driving capital for their bottom line.

This year alone, we expanded deals with Spectrum, CenturyLink, MetroNet, Duo County, BVU, Mi-Connection, GVTC, MUS, Windstream, Spillway and added new systems like Vision in New Orleans, Bolt Fiber in Tulsa, OK, and Como in Quincy, IL.
...More Successes
Viamedia had an unprecedented 2018 political cycle – nearly tripling the billing and nearly doubling the sheer number of political clients over the 2014 political election. The success our political clients have achieved is equally as incredible and we have high hopes for a very successful 2019 and 2020 in the political category.
Looking Forward
Viamedia is always evolving, always looking for leading-edge products to keep up with the ever-changing needs of our advertisers and partners.
We are currently in the early development stage of industry-changing technology that will further integrate cross media advertising like never before. Sign up for our newsletter to be the first to know more about this new industry-changing platform!
To Sum It Up
Looking back over 2018, we are excited to see not only the series of milestones we have reached, but the ladder of achievements that build off of each other and continue to enhance the ever-evolving advertising solutions we offer our advertisers and partners.
Here's to another year of working with our wonderful clients and partners to deliver results that matter.
We'd love to hear about your 2018. Did you hit any major milestones? How are you hoping to grow your business in 2019? What would you like to see more of from us next year? Send us a message and let us know.