Leading panel of experts discuss lucrative opportunity for advertising industry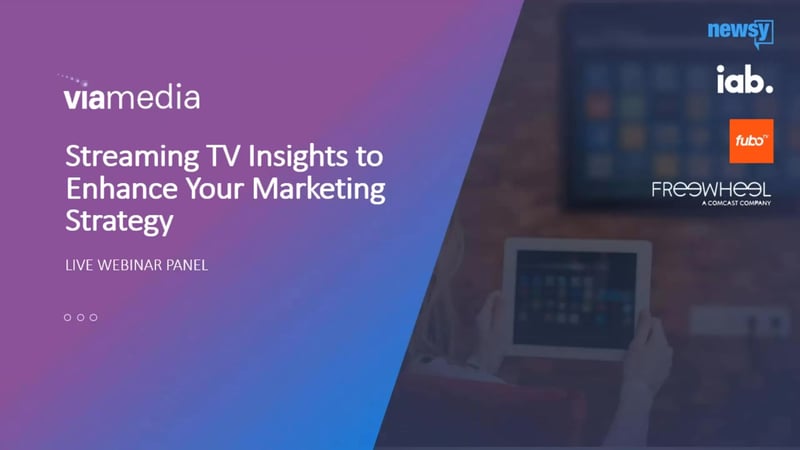 New York, NY -- Thursday, March 28, 2019 – Viamedia hosted a widely attended industry webinar March 27, 2019 to discuss the latest insights into Streaming TV (OTT) and how marketers are best leveraging the fast growing television platforms. The panel was led by Viamedia's own Tom Walsh, Sr. VP of Advanced Advertising Strategy and joined by expert panelists: Brian Schwartz, IAB; Greg Bel, FreeWheel, A Comcast Company; Michael Richter, Newsy, A E.W. Scripps Company; and Hannah Brown, fuboTV.
The top takeaways from the panel include:
· OTT is a main stream distribution channel for content and advertising with over 50% the US population using their connected TV's to stream video & projected to rise over the next few years.
· OTT blends the best of digital with the best of linear to emerge as the medium of choice for premium video allowing marketers to connect with audiences in their most engaged moment.
· 73% of adults 18+ who typically watch streaming OTT video say they watch ad-supported OTT video according to IAB's research on Ad Receptivity and the Ad-Supported OTT Video Viewer, Oct 2018.
· Ad Supported OTT is a Valuable Audience: Younger/Kids in Household/Higher Earning/More Diverse/Male according to IAB's research on Ad Receptivity and the Ad-Supported OTT Video Viewer, Oct 2018.
"With the premium video market innovating and elevating on a daily basis which was evident from the insights gleaned from industry innovators such as FreeWheel, Newsy, fuboTV and the IAB…there's never been a more exciting time in media," says Tom Walsh, Viamedia's SVP Advanced Advertising. "We at Viamedia are excited about the opportunities we are able to provide to marketers and local advertisers to be able showcase their businesses on incredible programming and platforms. Advertising just keeps getting better and better."
Marketers interested in the streaming TV insights delivered during panel can download the webinar on demand here: http://go.viamediatv.com/webinar-streaming-tv-advertising-0
About Viamedia
Headquartered in New York City, Viamedia provides a comprehensive audience and impression-based local video and digital advertising platform. As part of the platform, Viamedia has exclusive cable TV ad inventory from more than 60 Cable TV Distributors in 34 states across 72 DMAs, offering advertising on cable TV networks to more than 6,000 local, regional and national advertisers. Viamedia also offers those advertisers a complimentary suite of impression-based digital products including OTT, mobile, display, email, search, and social, in those DMAs and beyond. Viamedia's success is built on its proprietary software, people and processes. For more information, please visit www.viamediatv.com.
###