New York City – July 24, 2017 – Viamedia, the largest independent cable TV ad management company, today launched placeLOCAL™ and SpotHop™ -- new tools, to be implemented by Viamedia sales representatives, leveraging the latest in Viamedia-developed advanced advertising technology.
Both solutions are specifically developed for Viamedia local account executives to work with local advertising clients to build more efficient and effective ad campaigns within local markets and to offer those local businesses an innovative marketing solution.
"Each and every customer has special advertising needs, and each benefits greatly not only from the best available technology solution but also from the assistance of highly trained and skilled local ad professionals to target the right ads to the right eyeballs," said Mark Lieberman, president and CEO, Viamedia.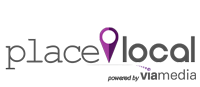 placeLOCAL™ is a simple yet powerful targeting and scheduling platform that automatically generates smarter linear cable TV ad campaigns for local advertisers based on budget, geography and target audience. The platform leverages advanced algorithms, alongside national Scarborough as well as local comScore ratings, to identify the best television networks and day-parts for a local advertiser to maximize reach and frequency across the advertiser's target markets.

SpotHop™, an impression-based sales automation and management platform, was developed to accelerate sales for Viamedia's longstanding ad sales relationship with Google Fiber. This platform eases the path for Viamedia account executives to deliver audience-based local TV ad campaigns on the Google Fiber systems. The SpotHop™ platform includes campaign order automation with audience targeting, impression fulfillment estimating and reporting. With the specifics of each campaign available electronically, the platform ensures that impression-based ad-buying is fast, simple and efficient for all clients.
Both tools are designed to help advance the local MVPD community further on the path toward local ad insertion using advanced and targetable programming platforms.
"By using the proprietary placeLOCAL™ online interface, our local AEs can, in just seconds, help deliver an entire media plan and allow the advertiser to react and adjust the plan with our team in one conversation," Lieberman said. "With SpotHop™ we're bringing local advertisers closer to the powerful combination of TV-style big-screen branding and digital-style accountability. With both platforms, Viamedia is better equipped to help local businesses find their best potential customers. The common denominator is that we have developed friendly user interfaces for the selling of both linear and impression-based local cable TV advertising, a significant step."
About Viamedia
Headquartered in New York City with operational headquarters in Lexington, Kentucky, Viamedia is the largest independent cable TV ad management company for local, regional and national advertising, programmatic and ad tech solutions, responsible for nearly one million spots per day from over 12,000 advertisers. The company specializes in selling advertising on behalf of more than 65 U.S. cable and telecommunications service providers, utility companies and municipalities, and employs approximately 350 people across the country.
SaveSave