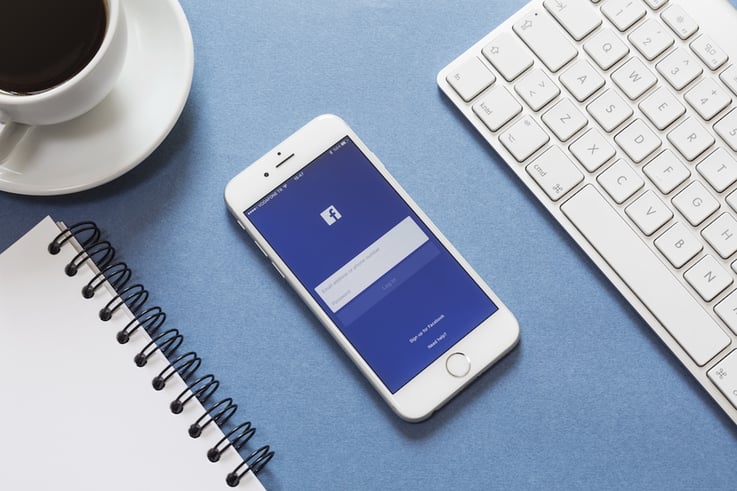 It's evident that there is still confusion in the industry about the benefits of boosting a post vs. utilizing Facebook Ads. The bottom line is that by simply boosting posts, you're not leveraging the full power of Facebook's advertising system. Boosted posts can be beneficial if all you are looking for is likes and comments but with access to so many more targeting options, placement and creative options with Facebook Ads, it's definitely worth it to give Ads a shot to see what kind of results you garner.
What's the difference?
Boosted Post: A boosted post is a post to your Page's timeline that you can apply money to in order to boost it to an audience of your choosing.
Facebook Ads: A more extensive and advanced way to advertise on Facebook offering more specific customization such as campaign goals and audience targeting options.
1. More Campaign Goal Choices
Facebook ads manager offers over 10 campaign objectives that you can choose from vs. only 2 for boosted posts. This allows you to spend your ad dollars more efficiently to an audience more likely to convert.
2. More Detailed Custom Audiences
With Facebook Ads, you have more customization when it comes to creating and nurturing your audiences.
Custom Audience
Custom Audiences for Facebook Ads go way beyond targeting in a boosted post. The biggest benefit is the fact that you can re-target warm audiences and cultivate cold audiences to create an audience that has a higher probability to buy your product or service.
Audience targeting options available for Boosted Posts are limited to Location, Age, Gender and Interests, whereas Custom Audience options with Facebook Ads include more robust options like relationship status, work/job titles, multicultural affinity, presence of kids in the household, age of kids in the household, political leaning, and life events.
You can also target more specific engagements with your Facebook page such as 'watched one of your videos' on Facebook or Instagram, 'filled out your lead form' or 'interacted with your event' on Facebook. Lastly, you can build audiences using outside sources like website traffic, a customer file, app activity or offline activity. An example of utilizing a customer file is uploading an email list of newsletter subscribers. In order to create an audience based on website traffic, you will need to install the Facebook Pixel.
Lookalike Audience
With Facebook Ads, lookalike audiences offer a unique opportunity to target your efforts to a new audience that shares the same characteristics as your current audience. You create a profile of your "best customer" and Facebook finds new prospects that are similar to your 'best customers'.
You can create lookalike audiences from people who have engaged with your brand on Facebook or Instagram (events, videos, lead forms, etc), website visits (if you have a Facebook pixel installed), or you can upload customer files (email lists, etc).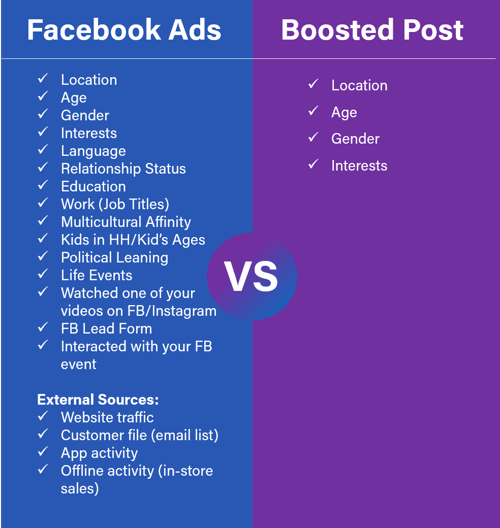 3. More Placement Options & Customization
Facebook Ads have numerous placement choices vs. extremely limited choices on Boosted Posts. With Facebook Ads, your campaign will run where they are most effective.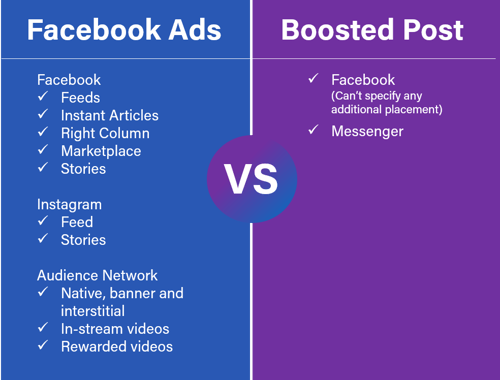 4. More Creative Options
Facebook Ads allow you to use carousel and slideshow formats for your ad creative. Boosted posts only allow single image and video.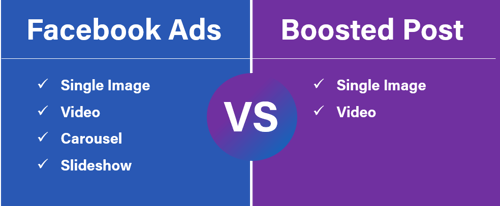 Carousel Ads
The photo or video carousel allows you to showcase up to 10 images or clips within a single ad. Each will have its own link. This format allows you to highlight different products, giving you have a bit more creative space within the ad. You can also showcase details about one product or tell a story about your entire brand throughout each carousel link.
Slideshow Ads
This format gives you a video-type ad with motion, sound and text, but the slides are quick and easy to make. They also load quickly, which makes them ideal for any connection speed.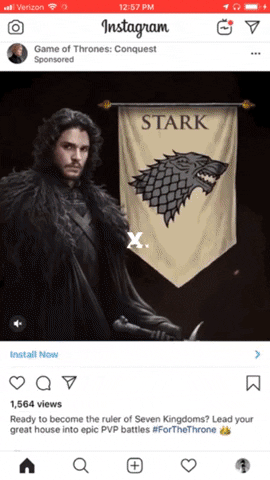 Final Thoughts
If you are only interested in engagement (likes/comments), boosting might be an OK option. On the other hand, if you're looking to truly measure your marketing success with specific objectives, the opportunity to reach new segments of customers and have more control over placement and creative options, then Facebook Ads is worth the investment.
If you don't have time to manage a Facebook Ad campaign or are overwhelmed by the options, Viamedia can help you develop a detailed Facebook marketing strategy specific to your business. We have worked with local businesses across all types of industries and have experts all across the country in social and digital marketing. Bounce your ideas off a social media strategist today >>