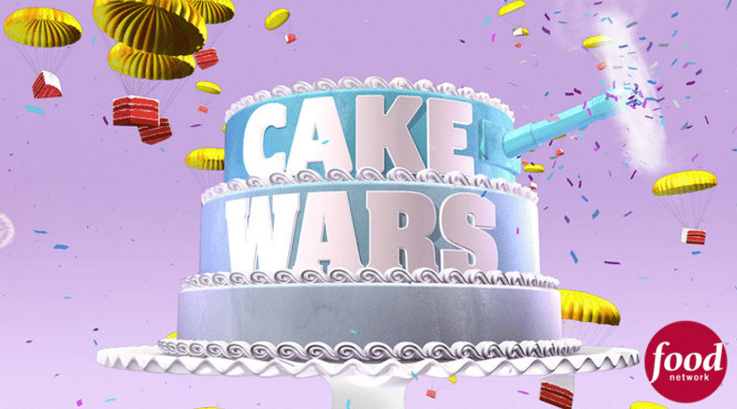 Has our country gone a little dessert-crazy? I'm not referring to the gradual increase in our collective waist size, but rather the sheer number of current TV shows and specials devoted to a growing array of sweet delectables. According to the fascinating blog site, "Pastry Sampler," there are dozens of such savory shows across several cable networks, including Food Network's, "Cake Wars," the subject of this blog, which is not to be confused by its predecessor show, "Cupcake Wars," nor "Cake Masters" nor "Cake Boss."
Has our country gone a little dessert-crazy? I'm not referring to the gradual increase in our collective waist size, but rather the sheer number of current TV shows and specials devoted to a growing array of sweet delectables. According to the fascinating blog site, "Pastry Sampler," there are dozens of such savory shows across several cable networks, including Food Network's, "Cake Wars," the subject of this blog, which is not to be confused by its predecessor show, "Cupcake Wars," nor "Cake Masters" nor "Cake Boss."
"Cake Wars" is one of several modern-day baking (and cooking) shows that pit professional chefs against one another for various prizes, which in this case means cash and having one's winning creation appear at a major event. And speaking of the creations, forget about that amazing triple-layer chocolate cake your grandma used to bake for you. In "Cake Wars," you won't even think it's a cake at all, but rather some highly refined 3-D sculpture that is rendered in fascinating, colorful detail.
Each episode is built around a particular theme. For example, Season Three kicked off with the episode, "Captain America," in which four cheftestants had 75 minutes to create a dessert utilizing the three most prevalent colors worn by the action-hero -- red, white and blue. The ingredients were laid out on the "inspiration table": red raspberries and pomegranates, blue corn and blueberries and white onions and coconut. Three of the four cheftestants made it through this preliminary round for the ultimate test – a 4-hour bake off (with assistants) to see who could create the most amazing, dazzling cake built around the theme of "going toe-to-toe" with Captain America. The winning entry became the centerpiece for a fancy gala affair celebrating the 75th anniversary of Captain America.
There seems to be no dearth of themes for "Cake Wars" which has already aired 47 original episodes (plus ~20 specials) compressed within a 16-month window. That's a lot of content, which may have generated a bit of viewer fatigue. Add in the migration of audiences to digital video and it's not so surprising that "Cake Wars" has experienced a decline in Live ratings and shares: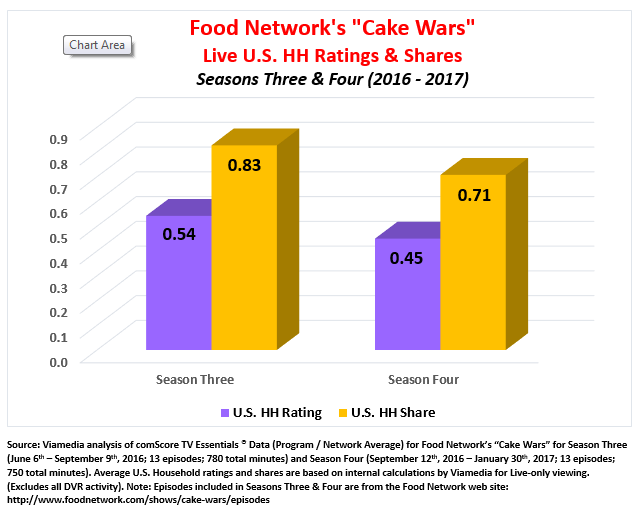 Geographic Viewing Pattern
Unlike many of the series we've blogged about in this space, the highest market viewing for "Cake Wars" is not concentrated in the south, although there are in fact seven DMAs (in the Top 25) that are south of the Mason-Dixon Line. The highest concentration (by far) can be found in the Mid-Atlantic Census Region with ten DMAs concentrated in just two states – New York and Pennsylvania: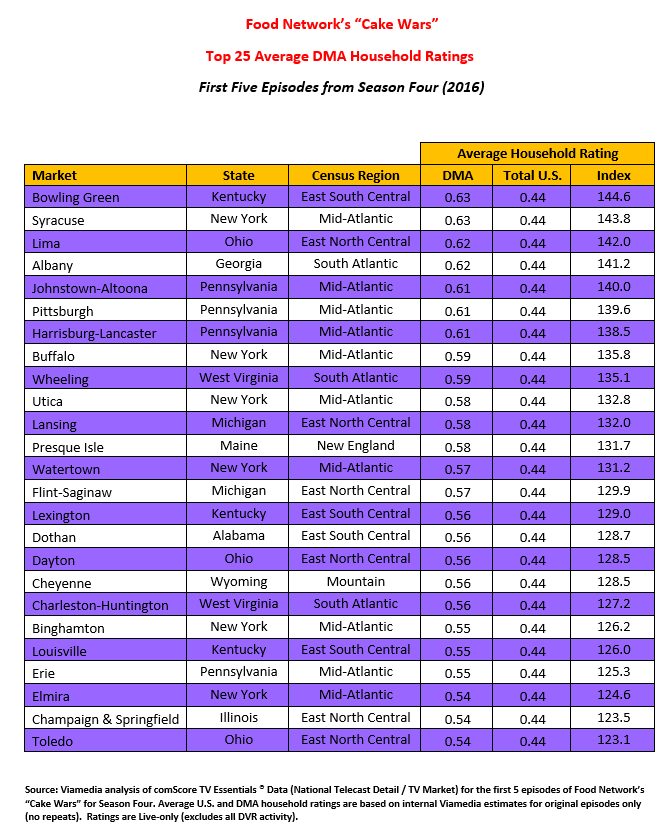 Local Cable Advertising
Over the past two years, across nearly 50 episodes since its first airing, "Cake Wars" has attracted 100+ advertisers in 37 Viamedia markets (~48% of our national footprint.) Collectively they've ordered nearly 1,000 spots which comes to an average of over 8 spots per client. And in terms of advertising categories, Automotive captures 40% of all local cable ad dollars, which is about seven share points higher than what we normally see for this category company-wide. The second highest share goes to Furniture & Floor Coverings (16%), which is three-times the level we normally see for this category. Surprisingly, the Food & Grocery category captures only the fourth highest share (at 7%), but that is 3-times the level that normally accrues to this category: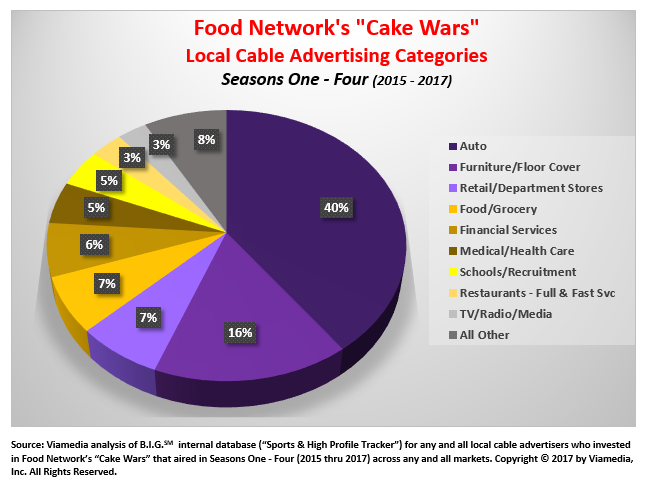 It's About the Cake
Each episode of "Cake Wars" moves smartly along under the direction of host, Jonathan Bennett, a familiar actor (and former model) from several televisions series. There are also dedicated (and guest) judges dispensing advice, as well as strategically inserted vignettes with the cheftestants.
But the real excitement is when the competition begins. There is something fascinating about watching chefs competing with one another (and the clock) to create the fanciest and most sophisticated cakes you've ever seen! And even though you witness these cakes rise from water, flour, sugar and numerous ingredients from the "inspiration table," you are still left gawking at the final creation wondering, "How in the heck did they make that thing?"
The only issue for the show is whether or not Bravo may have over-baked it a bit, scheduling over 40 new episodes in a 15-month period. Then, again, the show has a plethora of ingredients to draw from in the form of numerous pop culture themes that should keep this show fresh for several more seasons.