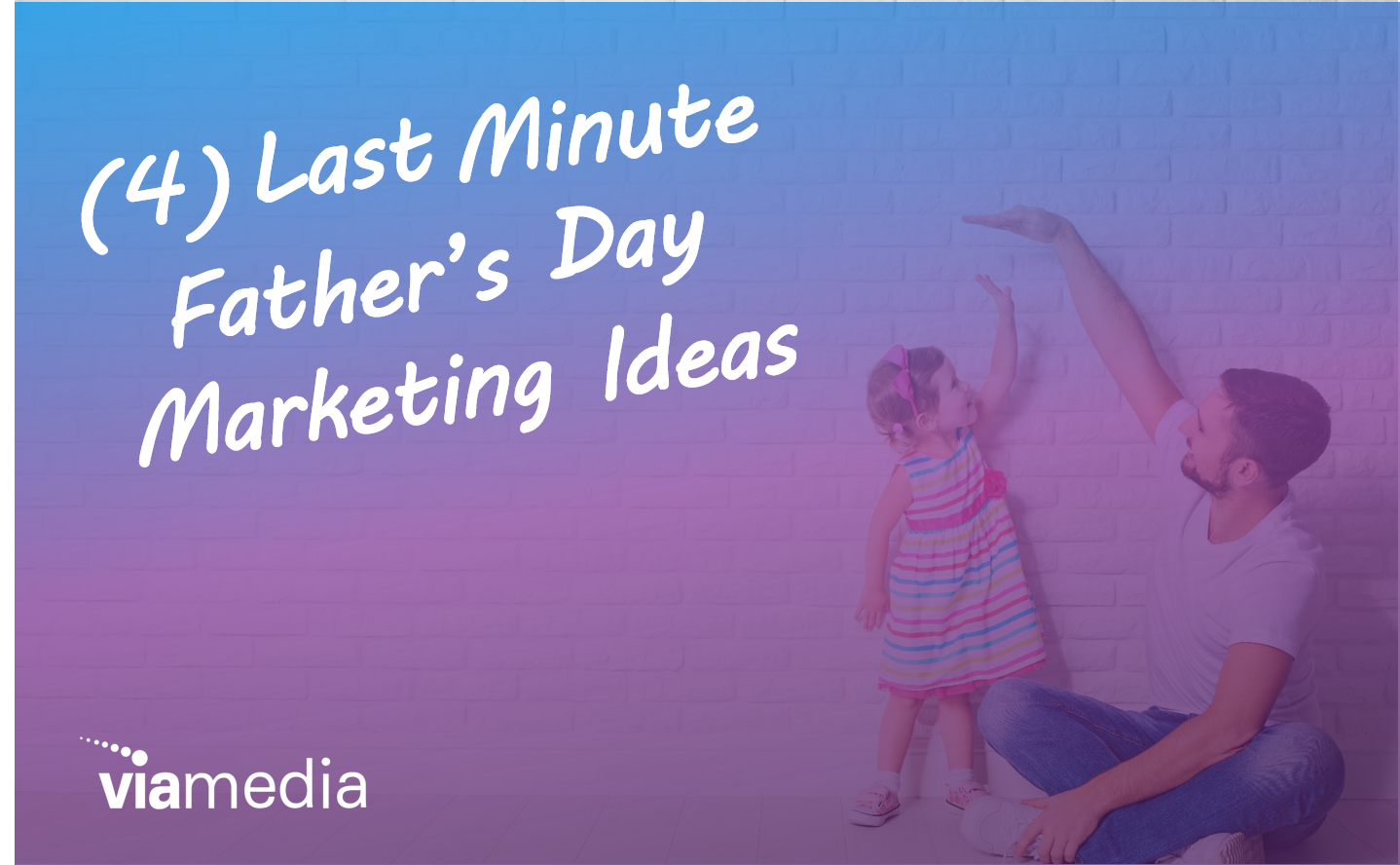 Father's Day is right around the corner, and while spending isn't quite to the Mother's Day level, people are starting to invest more and more in honoring dear ol' Dad.
According to the 2018 National Retail Federation's annual Father's Day Survey, it was estimated that $15.3 billion was spent for Father's Day, with the average person spending $133 on the holiday.
Here are a few marketing ideas to reach those last minute shoppers:
Check your Search Listings
Last minute Father's Day shoppers may have missed the 'shipping' window -- so many turn to local stores and services. Make sure your customers can find you!
Check your business listings at the very least on Google and Facebook, Yelp, YellowPages.com and anywhere else you have listed your business. Review address, business hours and phone number to make sure they are correct and check for duplicates.
Not sure where to begin? Viamedia Search Listing Maintenance solution automatically checks your listings for inaccuracy and distributes the correct business location (address), business hours and phone number across the search ecosystem to sites like Bing, Apple Maps, Foursquare, Super Pages, City search and more all for a very affordable monthly fee.
Get Social
Though both men and women get their father's presents in about equal numbers, moms often end up shopping for their husbands when the kids are too little to do it themselves.
Research shows young moms spend 8+ hours per day scrolling through social media feeds and 75% of mothers prefer social media over other websites or apps. And according to Statista, 79% visit Facebook and 44% use Instagram weekly (Statista, Jan. 2018).
With so much time spent on social media, it's a no brainier to pump up your social posts for this money-making holiday.
You can boost a Facebook post within 5 minutes...easy peasy.
But honestly the best way to get your message in front of a more relevant audience is with Facebook Ads. When you boost a post, your targeting options are limited. By utilizing Facebook Ads you have more advanced customization solutions such as ad placements, ad objectives, opportunity to add a call to action button and so much more.
Viamedia can save you the time and hassle and place your Facebook and Instagram ads for you. Plus, we have in-house ad designers to create an engaging ad along with a smart strategy.
Email
What better way to reach last minute buyers than a quick email campaign straight to their inbox?
According to Adobe, people spend 2.5 hours per weekday checking personal emails at work and 68% of millenials say promotional emails have influenced their purchase decisions.
Don't have an email created? No problem. We can help you develop an email campaign within 3 - 5 days. Plus, our email marketing solution has an innovative way to reach targeted customers who have shown interest in your product type within your area.
Retargeting
Retargeting is an easy way to reach consumers who have ALREADY shown interest in your product...because they visited your website! How does it work? It keeps track of the consumers who visit your website and it displays your video and display (banner) ads to them as they visit other sites online. This is great way to stay relevant to consumers who are ready to make a decision.
The best way to reach consumers this Father's Day is to engage them across multiple screens and make the message relevant to them. Act fast and contact us today to request a consultation with one of our experienced media strategists.
Good luck and Happy Father's Day!