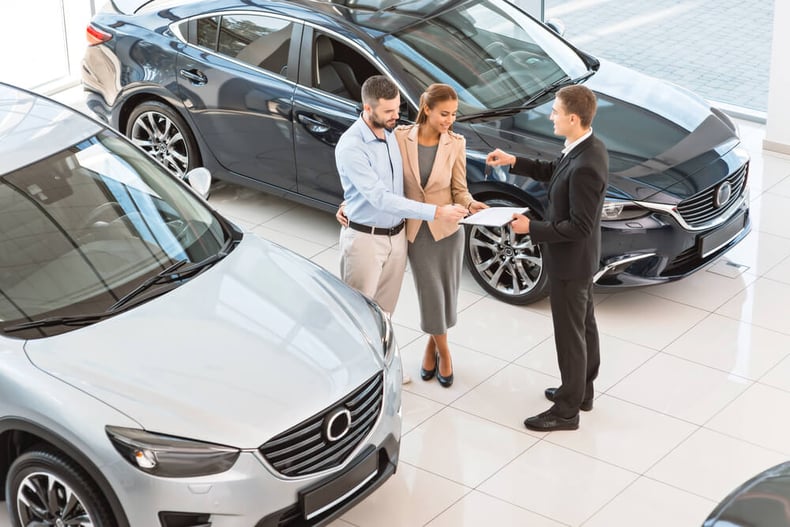 TV Advertising Auto Guide
It doesn't take more than a glance through our internal sales records to appreciate the magnitude of automotive advertising on local and national/spot cable TV. Over the past 4-Years (2013 – 2016), the automotive category captured 35% of total Viamedia advertising (excluding political). Not only is Viamedia well-positioned to offer highly targeted zone geographies for specific dealerships and dealer groups, but our company also inserts on dozens of highly targeted cable networks that are especially appealing to the entire auto industry, from manufacturer to dealer.
In working with our automotive clients, we are often asked:
Which cable networks should I use?
How many different cable networks should be included in my schedule?
How should I deploy my advertising by daypart?
To address these questions, we ran a series of queries utilizing the rich 20 Million set-top-box database from comScore, which merges TV set tuning with numerous household characteristics, including automobile ownership.
Which Cable Networks?
For the myriad of automotive makes and models, there is no set formula in choosing cable networks (and programs.) Clearly, there are numerous factors to consider, such as creative, target audience and merchandising opportunities.
That said, one popular approach is to look at a network's audience delivery amongst current car owners, which is a particular forte of cable given all of the targeted networks that exist today. Below is just a sampling of data across several popular automobile models. We've listed the Top 5 indexing cable networks for each model car…. here's one example for Buick Lacrosse, a mid-sized luxury car that has been in production for over a dozen years. According to comScore, the total U.S. household rating for the Fox News Channel was .98 (for the first half of 2016.) But amongst the network's tuning homes that owned a Buick Lacrosse, the rating was 1.68 which is 72% higher than the overall rating, hence a 172 Index.
One other note as you read through the chart below. In the far right column, we've listed the total number of cable networks with 100+ indices. Bottom line: Viamedia offers our automotive clients a tremendous array of targeted cable networks from which to choose: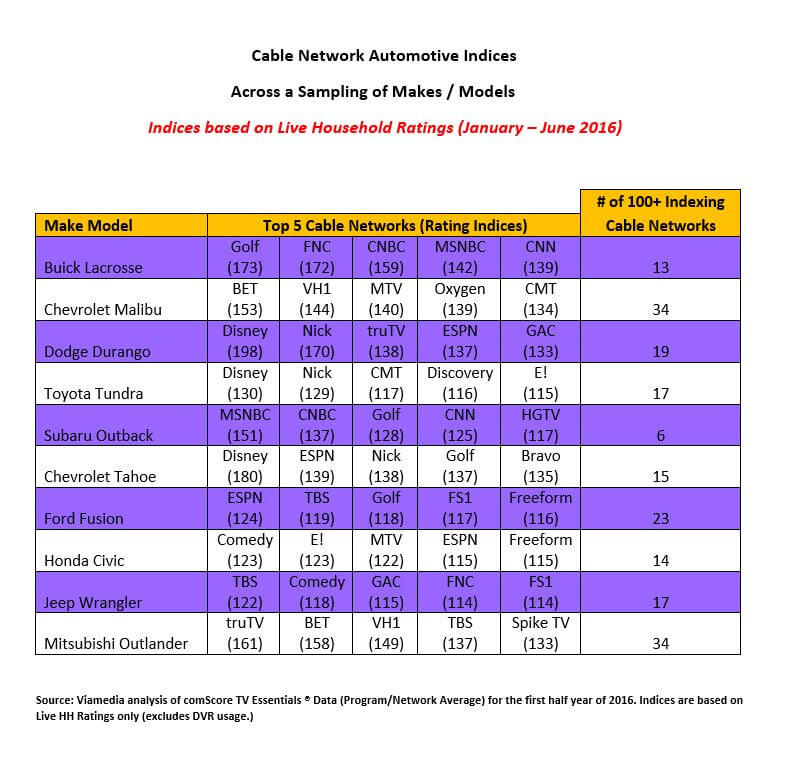 How Many Cable Networks?
As is the case with selecting specific cable networks, there is no set formula behind the number of cable networks (and programs) deployed by automotive advertisers. What we can say is that – based on the chart above – there is no shortage of potential network candidates. And more to the point (as can be seen below), we find major auto advertisers deploying significant levels of advertising across dozens of cable networks. And in comparison with broadcast network advertising, ad-supported cable often receives the majority of ad weight: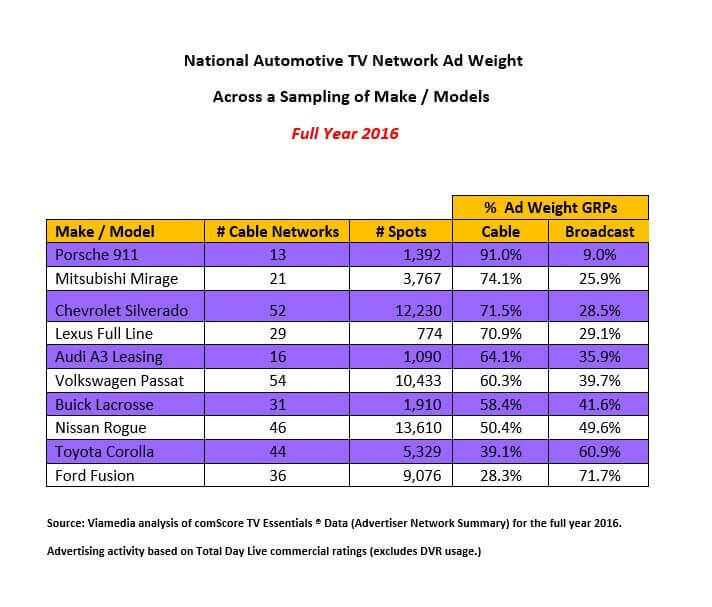 Daypart Mix
As a general rule, we advise our clients to deploy their advertising across as broad a daypart mix as possible in order to ensure maximum ( and efficient) reach. That would appear to be the tactic among several national automotive advertisers whose schedules are quite dispersed. And while we find roughly 30 -40% of their spots deployed in the evening hours 6pm -12 midnight, all of the other dayparts receive generous allocations as well (Including the overnight hours of 12midnight – 6am):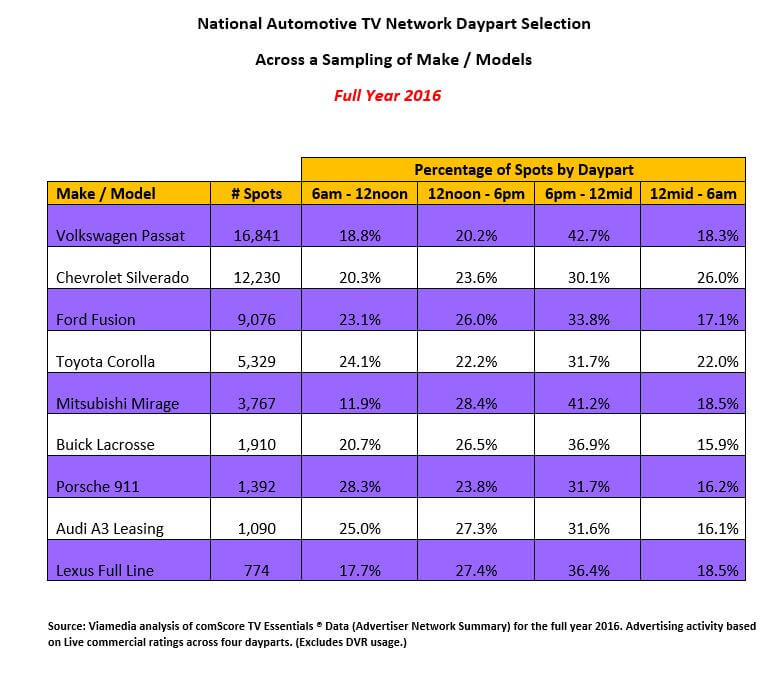 One-Two Targeting Punch
Viamedia is in a unique position to offer at least two levels of targeting for the automotive industry. Our 130+ local cable zones represent an efficient way for dealerships to reach their best customers residing in key trading areas. And we insert on dozens of highly targeted cable networks that attract prime prospects for practically any Make & Model sold in America.