2016 Major League Baseball (MLB) Playoffs
The month of October is a feeding frenzy for sports fanatics. Professional (and college) football have gotten underway with their respective seasons, with basketball and ice hockey not far behind. And linking these major sports together is baseball's last hurrah -- the Major League Baseball Playoffs, which begin Tuesday, October 4th with the American League Wild Card game.
All in all, ten (out of thirty) major league baseball teams enter the post-season gauntlet with all of the play-off games (leading up to the World Series) carried on three major ad-supported cable networks: TBS, Fox Sports 1 and ESPN. Last year, cable aired 28 playoff games which (on average) attained a 4.0 Live U.S. household rating – practically the same figure as the year before (2014.) Given the amount of TV viewing that has migrated to all things digital (not to mention DVR playback), maintaining steady year-over-year Live ratings is no mean feat. Indeed, with overall Live viewing levels trending downward, the ability to stay even translated into a 9% higher share level in 2015 (6.9):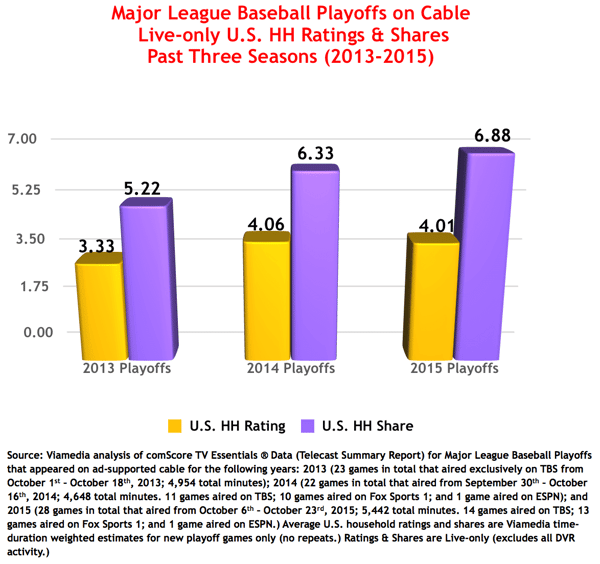 Local Market Ratings
As is the case with football, basketball and ice hockey, our national pastime of baseball is really a hometown sport, and when the hometown team makes the playoffs its local market ratings soar (back, back, back) way over the fence. Below is a sampling of games from each round of the American and National League playoffs. As one example, the Game 6 American League Championship Series contest between the Toronto Blue Jays and the Kansas City Royals pulled down a very strong 5.1 U.S. household rating. And in the Kansas City DMA, the rating reached into the stratosphere (55.2), eclipsing the national average by a factor of ten: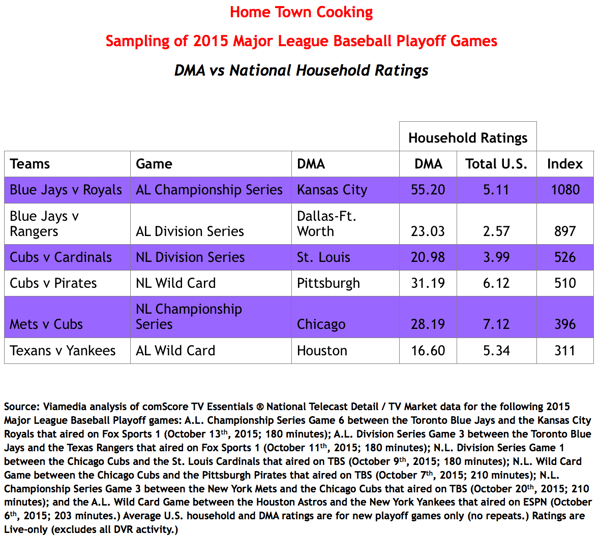 Upscale Household Delivery
The Major League Baseball playoffs not only deliver a highly engaged television audience, but one that is also very upscale with the highest ratings peaking for homes with an annual income of $175,000 - $199,999 (i.e., 4.7 ratings, which is 21% higher than the national U.S. household average):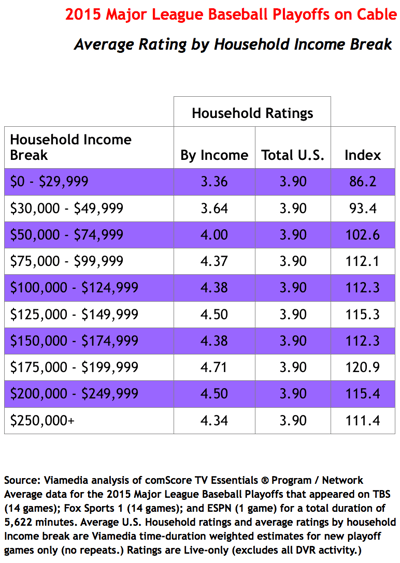 Local Cable Advertising Demand
Over the past two playoff seasons (2014 & 2015), nearly 500 local cable clients have ordered more than 6,000 30-second spots across 68 Viamedia markets – practically our entire national footprint. That comes to an average of over 12 spots per client.
(Source: B.I.G.SM database -- Copyright © 2016 by Viamedia, Inc. All Rights Reserved)
In comparing local cable ad demand over the past two playoff years, we have converted our internal data on a "per game" basis to compensate for the increased number of playoff games that aired on ad-supported cable in 2015. Across the 47 Viamedia markets that exhibited advertising over the past two baseball playoff seasons, local cable advertising demand doubled, driven primarily by a rise in average unit pricing.
(Source: B.I.G.SM database -- Copyright © 2016 by Viamedia, Inc. All Rights Reserved)
In terms of local cable advertising categories, automotive captured the lion's share of investments (39%), which is higher than its category share across all Viamedia clients, but by no means unusually high in the context of sporting events. The Major League Baseball Playoffs take place in the month of October, leading up to the November elections, so it comes as no surprise that Political is the second largest advertising category -- 8% of all advertising investments, which is 2-to-3 times higher than what we normally see on sports programming: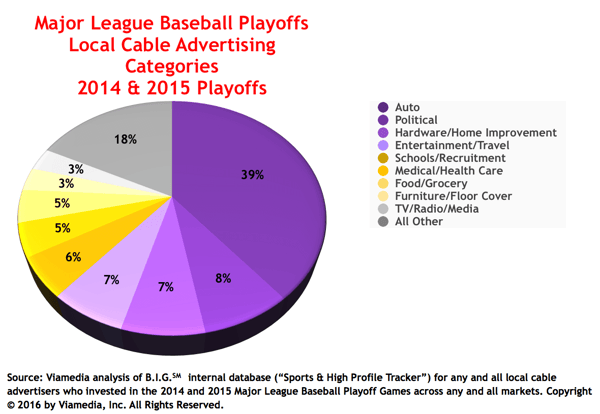 From Marathon to Sprint
Baseball is a marathon that can test the endurance and patience of even the most loyal and devoted fans who are taken through a long, hot summer slog of a season in which thirty Major League Baseball teams play in a combined total of 2,400+ regular season games. But, then, just as the seasons change and the weather cools, the marathon turns into a sprint with just ten teams entering the playoffs with a chance of being crowned World Series Champion. At this time of year, the timeless game of baseball seems to speed up as fans are treated to the most exciting baseball of the entire year. Enjoy the games!