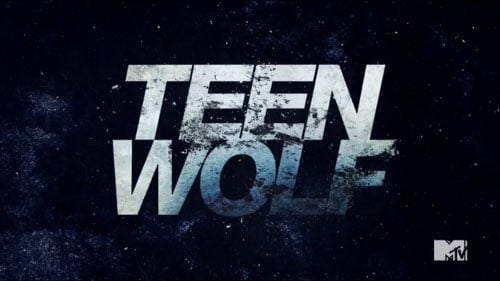 Aaoooooo!
I'm not sure why, but werewolves (of all kinds) keep popping up all over the place in various fictional art forms and settings. Wikipedia lists hundreds of films, books, music titles and television series that are either about werewolves or contain a werewolf figure. And it just so happens that one of my favorite tunes is the (highly) idiosyncratic rock song, "Werewolves of London," with the late Warren Zevon declaring at the outset, "I saw a werewolf with a Chinese menu in his hand…"
But the inspiration for our blog on MTV's "Teen Wolf" isn't from a song, but from a mid-1980s film of the same name starring Michael J. Fox as Scott Howard -- a high school student who has inherited a unique family trait. You see, Scott has the ability to transform himself into a werewolf with extraordinary athletic powers, which enables him to lift his basketball team from the depths of mediocrity to the high school championship basketball game. And along the way, his werewolf status has enhanced his popularity in school, especially with the girls.
Who'd have thunk it?
MTV's television series of the same name (and now in the middle of its fifth season) stars Tyler Posey in the teenage werewolf role (Scott McCall) with a bit of a twist. Unlike the original Scott Howard, whose werewolf status is inherited, Scott McCall came by his status the old fashioned way – he was bitten by a werewolf. And unlike the original movie, which in essence was a light-hearted comedy, the MTV version leavens the comedy with darker (and more graphic) elements that transform the teenage high school experience into something scary and (at times) quite bloody.
This January 5th, 2016, "Teen Wolf" is entering the second half of Season Five. During the first half, the show generated a .52 U.S. household rating (.78 share) which was off from prior seasons, but still significantly higher (+20%) than the ratings MTV generates in "Teen Wolf's" 10pm time slot: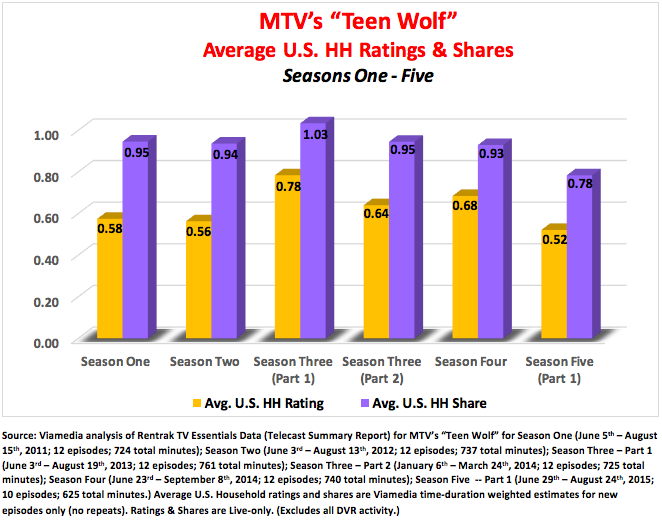 The downward drift in ratings for "Teen Wolf" may have something to do with the fact that the show has now aired over 70 episodes since its premiere season (in 2011), so viewer fatigue may have set in to some degree. What is certain is that "Teen Wolf" attracts a young audience (see chart below), and we know from several studies that young adults in general have been migrating over to digital video at a greater rate than any other age cohort. So, in other words, networks that have a younger skewing audience (such as MTV) are swimming against a tide in which their core audience has been drifting over to the digital side. That, more than viewer fatigue (in our opinion), has taken a bite out of "Teen Wolf's" rating and share performance: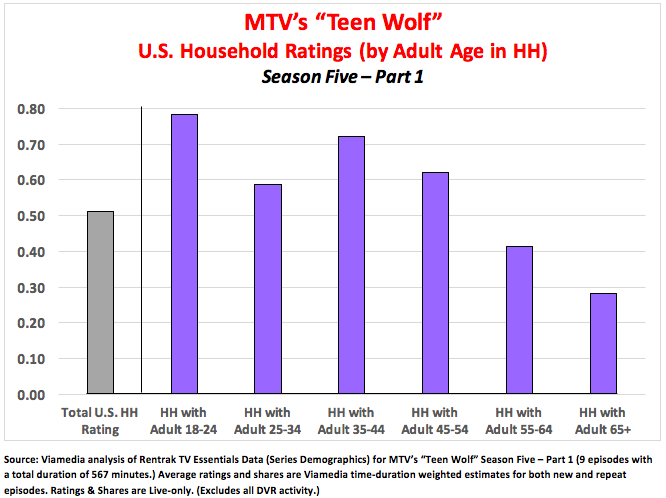 Local Cable Advertising Demand
Over the past two seasons, forty advertisers across 20+ Viamedia markets have ordered 160+ :30-second spots in Teen Wolf." That comes to an average of about four spots per advertisers.
(Source: B.I.G.SM database -- Copyright © 2015 by Viamedia, Inc. All Rights Reserved)
Of all the cable shows we've blogged about in this space, none have exhibited the sort of advertiser concentration that we see with "Teen Wolf" with just two categories (Restaurants and Automotive) capturing a whopping 80+% share of all ad dollars. The Automotive share of (38%) is more or less in line with that category's share company-wide. But the Restaurant share of 44% is quite unusual and is something like ten-times the share we normally see, with investments from such quick serve restaurants as Subway, Wendy's and McDonalds accounting for nearly forty of the category's forty-four share points. Undoubtedly, these restaurant have selected MTV's "Teen Wolf's" for its young adult audience: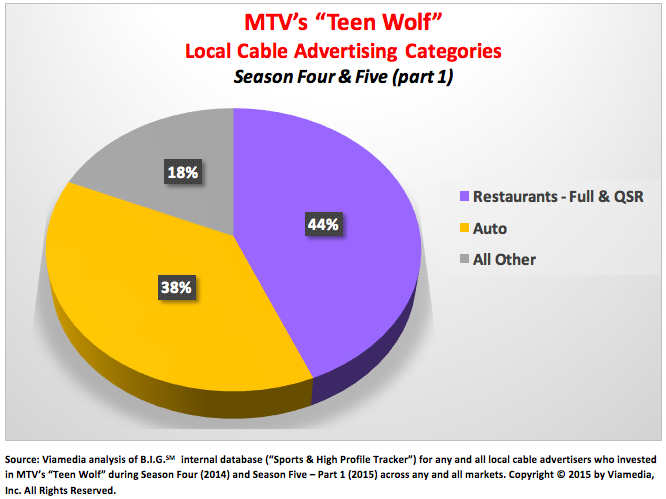 Season Five – Part 2
The programming bigwigs over at MTV have thrown a few curveballs to viewers over the past few years, (which certainly hasn't helped "Teen Wolf's" ratings.) Season Three, for example, premiered in the summer of 2013 with a dozen episodes, and then went on a hiatus for several months before returning in the winter of 2014 (with a dozen more episodes.) But did the programmers follow suit with the same split in Season Four? Nope – they just aired a dozen episodes in the summer of 2014. But when Season Five came along, they decided to split it again -- just like Season Three, the difference being that when the current season starts up again in early January, 2016, it will be a continuation of a narrative begun last summer in which Scott McCall and his fellow classmates worry (a la "Glee") about what will become of them once they all graduate. But graduation is the least of their worries. They face several scary, supernatural forces that may cut short their high school careers long before graduation day.