Is it any surprise that -- for many in our nation -- the lone, military sniper has attained an almost mythic status in which "one shot, one kill" is celebrated as the pinnacle of martial ardor and achievement? After all, gun ownership is often equated with patriotism, freedom and independence. Indeed, look no further than the multi-award winning 2014 film, "American Sniper," which celebrates the heroic efforts (and tribulations) of Chris Kyle, one of the most lethal snipers in our nation's history.
In a similar vein, there's the 2007 film, "Shooter," (based on the novel "Point of Impact"), which is the inspiration for USA Network's drama series of the same name which returns for a second season on July 18th, 2017. For those who never saw the original movie, the film is based on the character, Bob Lee Swagger, (played by the American actor, Mark Wahlberg) -- a sniper recruited to track down an assassin whose next target is the President of the United States.
Fast forward to the TV series in which Bob Lee Swagger (now played by the actor, Ryan Phillippe) is quietly retired with his wife, Julie (played by actress/model, Shantel VanSanten) in the great outdoors of the Pacific Northwest. All is well with the former marine sniper… that is, until Secret Service Agent, Isaac Johnson (played by the actor and songwriter, Omar Epps) comes a-callin' to enlist Swagger to stop – you guessed it – an attempt on the President's life. And like the 2007 movie, things don't all go according to plan as the visiting President (from the Ukraine) is killed, and Swagger takes the fall (and is imprisoned). He eventually escapes, of course, and sets about hunting down the bad guys.
The ten episodes of "Shooter" that aired in Season One averaged a Live U.S. household rating of .71 (1.23 share), which is about 12% higher than USA Network's overall viewing level in the show's 10pm time slot. But the real ratings story behind "Shooter" is the significant level of DVR usage -- a sure sign of viewer interest and engagement with the show: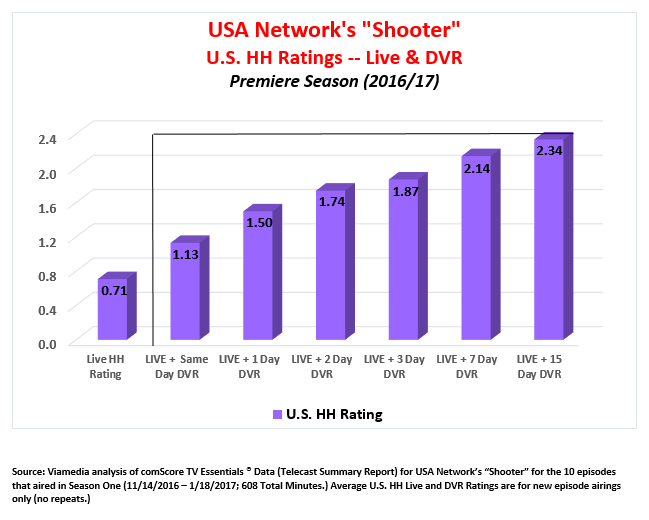 Deep Southern Skew
Given the popularity of gun ownership in the South, not to mention the rich military tradition associated with the South, "Shooter" has found notable ratings success within markets south of the Mason-Dixon Line. Below is a list of the Top 25 viewing DMAs (for the first five episodes of the show), and you can see that 23 out of the 25 markets are located within southern states. The #1 viewing market is Greenwood, Mississippi which accrued an average Live rating two-and-one-half times the national average (1.78 vs .70). Indeed, the Gulf State of Mississippi comprises the most markets on the list (five) followed by West Virginia (four):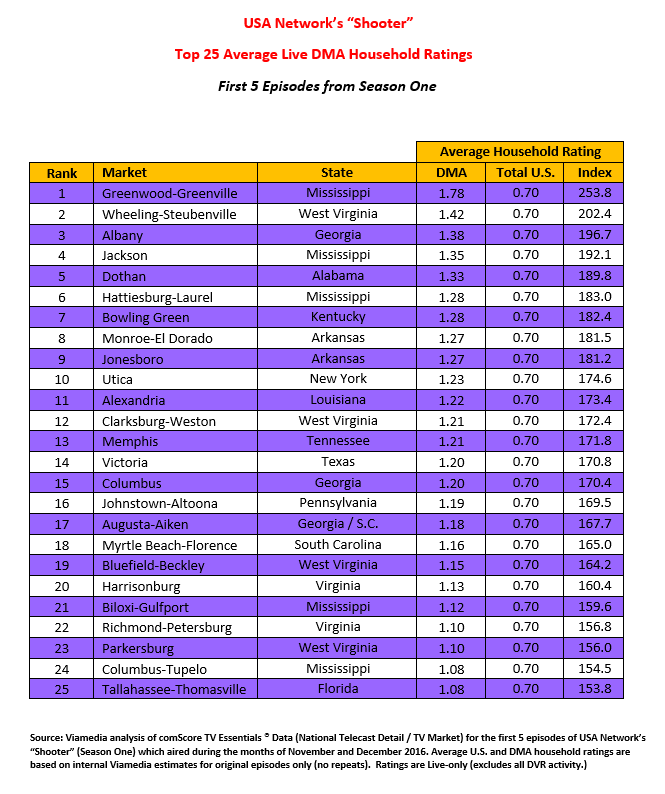 Local Cable Advertising
USA Network's "Shooter" has been on air for only one season, so we have no baseline comparisons to quantify year-over-year sales metrics. But based on records we have for other first year shows, "Shooter" received strong support in its inaugural season. All in all, the show attracted 40 inaugural advertisers who ordered 260 spots across 30 Viamedia markets (~40% of Viamedia's national footprint.) That comes to an average of six-and-one-half spots per advertiser. (Source: B.I.G.SM database — Copyright © 2017 by Viamedia, Inc. All Rights Reserved)
And in terms of local market advertising categories, Automotive captures the lion share of all cable ad investments (49%) – a level that is about 15 share points higher than what we normally see for this category company-wide. Over-represented as well is the Medical/Health category (18% share) which is more than double the company-wide average: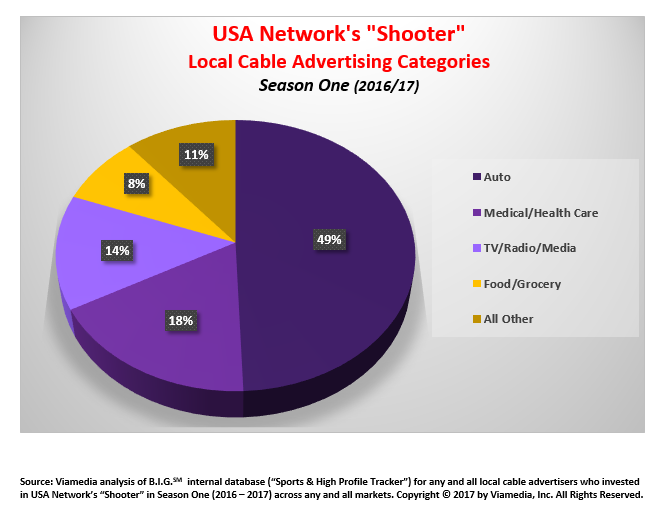 Season Two
"Shooter" is filled with plenty of plot twists, betrayals and conspiracies, which are all pretty standard themes for a show like this. Also familiar is the lone, U.S. Military sniper cast as survivor, avenger and -- ultimately -- hero.
But it may surprise many young adults, who came of age in the traumatic years right after September 11th, that military snipers weren't always cast as heroes. In past wars, snipers were often viewed with some ambivalence by soldiers on both sides. Why? In a nutshell, because snipers made war way too personal. The world-renowned military historian, Max Hastings, wrote about how World War II soldiers felt about snipers. It's not a rosy depiction:
"Almost every soldier on both sides shared a hatred of snipers, which frequently caused them to be shot out of hand if captured. There was no logic or provision of the Geneva Convention to justify such action. Sniping merely represented the highest refinement of the infantry soldier's art. Its exercise required courage and skill. Yet, sniping made the random business of killing, in which they were all engaged, become somehow personal and thus unacceptable to ordinary foot soldiers."
(Source: http://www.dailykos.com/story/2015/1/28/1360663/-How-Snipers-are-Viewed-by-Soldiers)
But whether snipers are heroes, anti-heroes or something in between hasn't stopped viewers from watching "Shooter" which begins a second season with the main protagonist, Bob Lee Swagger, breaching the Russian Embassy (a timely topic) in an effort to prove his innocence. Based on the show's reception in Season One, there's a good chance "Shooter" may attract even more viewers this July.
SaveSave