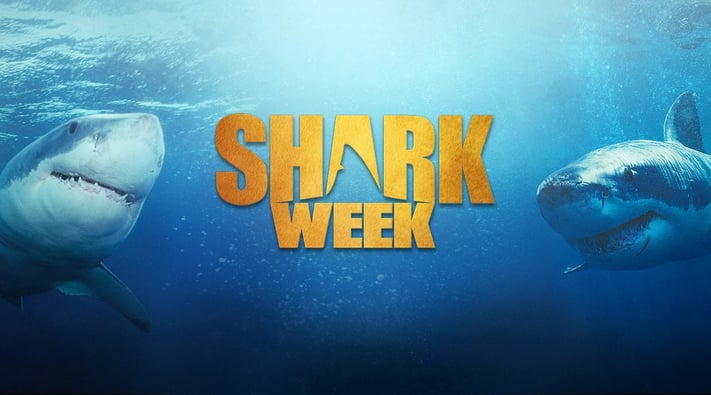 Somehow summer just wouldn't be the same without the longest-running cable television event ever – the weeklong, legendary series from Discovery Channel, "Shark Week." Since 1988, "Shark Week" has fascinated millions and millions of viewers not just in the United States, but around the world!
There has always been a double edge to "Shark Week," and I'm not referring to large serrated teeth. On the one hand, the series began with "…content (that) was heavily devoted to conservation efforts and correcting the kinds of misconceptions about sharks that (the movie) Jaws helped to spread." (Source: "The History of Shark Week"; 8/14/2014; Matt Jones.)
On the other hand, I doubt this series would have lasted 30 years (and counting) had it focused exclusively on "conservation efforts." Not a chance. Many years ago, the creators of "Shark Week" figured out they could boost ratings by tapping into our (serious) primordial fears of sharks, starting with Carcharodon Carcharias, better known as the "Great White Shark" that was sensationalized by Steven Spielberg's 1975 breakout film, "Jaws."
Last year (2016), "Shark Week's" ratings and shares fell significantly below viewing levels from the prior three years. Part of the issue may be that last year's edition aired before the start of the July 4th weekend. Another issue is the overall erosion of Live television viewing as viewers migrate to all thing digital. That said, last year's performance would be the envy of numerous cable networks, and the ratings and shares were about double what Discovery normally achieves in the "Shark Week" time period: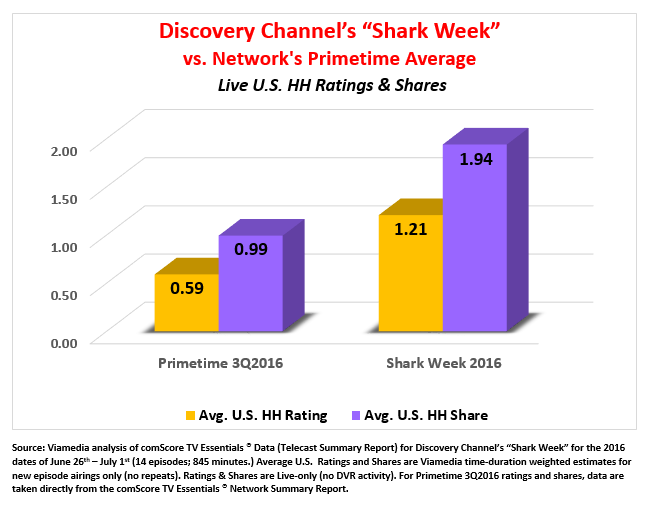 Upscale and Educated
Advertisers' willingness to appear in "Shark Week" year after year goes beyond sheer rating size. They are not only reaching a highly captivated audience to some of the most thrilling wildlife footage that exists on television today, they are also reaching an educated, upscale one as well that has a ratings peak at the Household Income break of $100,000 - $124,999 (1.55 vs the U.S. National average of 1.21.) And in terms of educational attainment, households with a college degree index at 115.6: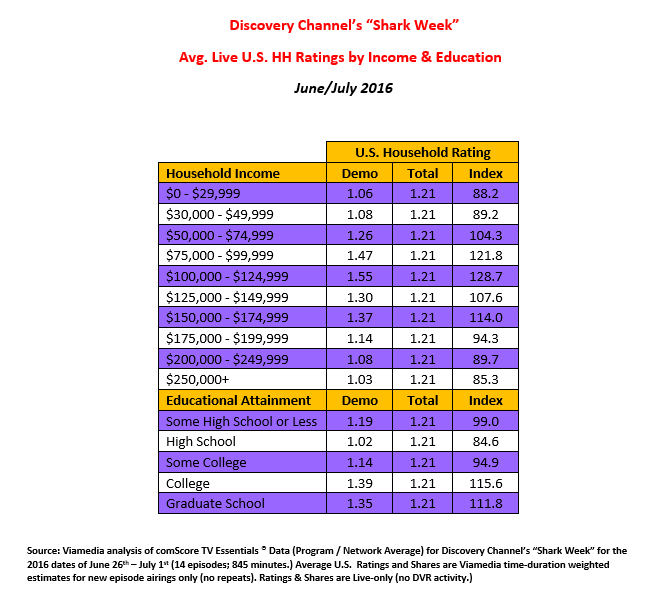 Southern Coastal Market Skew
Perhaps it is just a coincidence, but several of the markets with the highest viewing to "Shark Week" are located on either the Atlantic or Gulf Coasts of the United States. Indeed, nearly half of the Top 25 highest viewing DMAs are located on the coast (with 5 DMAs in the State of Florida alone). Another pattern: 21 out of the Top 25 markets are located south of the Mason-Dixon Line -- 11 of which are represented by Viamedia: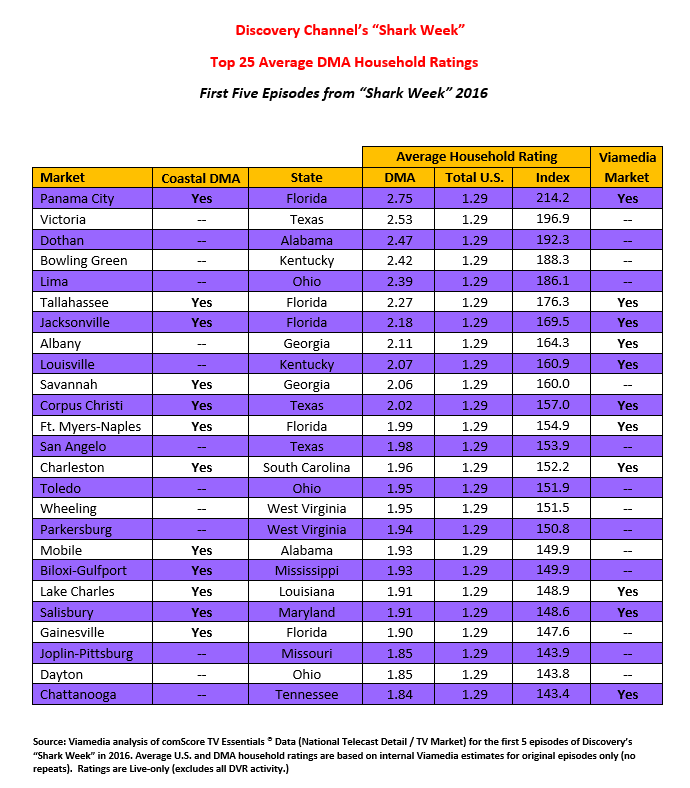 Local Cable Advertising Demand
There are a select few iconic cable events that elicit such broad and deep support amongst our local cable clients – and "Shark Week" is certainly one of them. Over the past two years (2015 & 2016), over 180 advertisers ordered 1,600+ 30-second spots across 53 Viamedia markets (70% of Viamedia's nationwide footprint.) That comes to an average of nearly nine spots per advertiser.
Source: B.I.G.SM database -- Copyright © 2017 by Viamedia, Inc. All Rights Reserved
In terms of local cable advertising categories, Automotive captures the largest share (at 33%) which is right in line with what we normally see for this category company-wide (across all programming.) In contrast, the second largest category (Entertainment & Travel at 24%) is more than 3-times the share we typically see. Hardware & Home Improvement's share (at 10%) is also over-represented: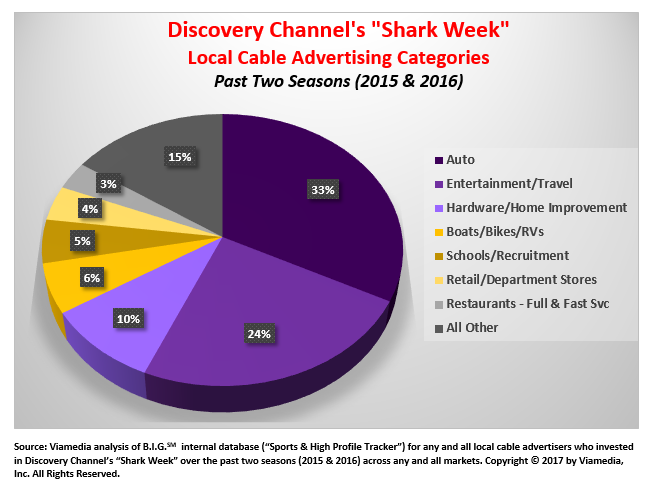 Shark Week 2017
"Shark Week" is not only cable's longest running annual summer event – it's a body of work that delivers a highly engaged audience captivated by some of the most thrilling content in all of television! No other spectacle takes the viewer oh-so close to the real thing: non-stop eating machines that will (on occasion) feast on Homo sapiens.
This summer all the excitement begins on Sunday, July 23rd with a quartet of programs, including -- believe it or not -- a "swim-off" between a Great White Shark and the greatest Olympic swimmer of all time, Michael Phelps. There are also episodes provocatively entitled, "Hammerhead Invasion" and "Shark-Croc Showdown". Dare I say there will be blood?
And, so, as you stroll along the beach this summer; take a dip in the ocean; or simply cast a line into the water… always remember Discovery Channel's cautionary advice:
"Be careful what you fish for."