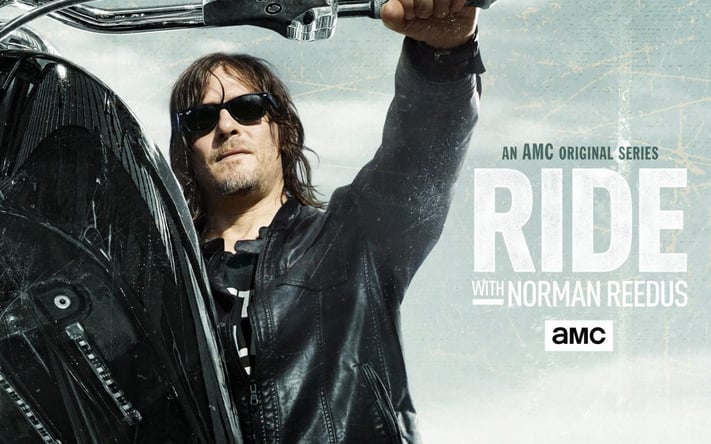 What does a network do with a wildly popular actor on the most successful series in the history of ad-supported cable TV? Well… you take what he really likes to do and then you "line-extend" him into his very own show. The actor is Norman Reedus, who has morphed into a cultural icon as the motorcycle-riding hunter/gatherer/protector Daryl Dixon in AMC's mega-hit series, "The Walking Dead."
And what did AMC decide to do with him? They gave him his own travel-documentary show ("Ride with Norman Reedus") in which he tours the good ol' U.S. of A. straddling a serious, tricked out motorcycle (make that several different motorcycles.)
In addition to traveling the California coastal highway, Reedus has made it to places you may never get to in person, but can "experience" them right by his side, such as the Black Mountains overlooking Death Valley National Park, the Atchafalaya River Basin in Louisiana and the Overseas Highway through the Florida Keys. And along the way you can visit with motorcycle enthusiasts, stop in on out-of-the-way hangouts and casually encounter unsuspecting fans who get all wide-eyed once they realize they are talking with a star from "The Walking Dead." Norman Reedus also takes to the road with a travel companion or two, including none other than Peter Fonda, who nearly 50 years earlier took to the road himself on a flag-painted Harley-Davidson in the iconic film, "Easy Rider."
In terms of audience acceptance, "Ride with Norman Reedus" has hit upon one or two speed bumps along the way averaging a Year One rating and share somewhat lower than AMC's typical audience in the show's 10pm time slot. Which is not to say "Ride with Norman Reedus" popped a wheelie and flipped over backwards. The show actually held its own with an average audience of 400,000+ tuning homes (.37 U.S. household rating), and when we consider DVR activity up to 15 days of the Live telecast, the show more than doubled that figure (978,000 homes, .86 rating):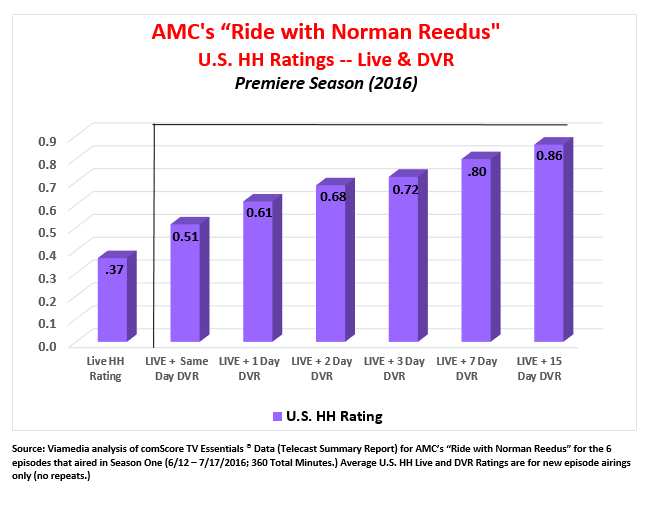 Southern Market Skew
To get a sense of regional viewing skews for "Ride with Norman Reedus", we selected the Top 25 DMAs with the highest ratings for the Premiere Season. As can be seen below, 20 markets are located south of the Mason-Dixon Line (many of them Viamedia markets), with five falling in just one state (West Virginia):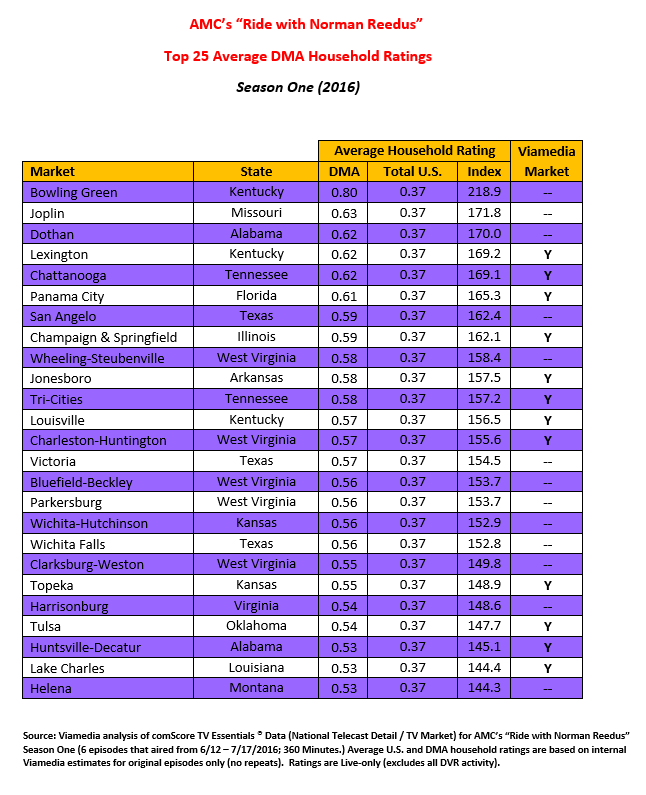 Beyond just the Top 25 viewing DMAs, we decided to compare Season One ratings with the first 5 episodes from "The Walking Dead" (Season Six) across all 200+ DMAs. Our hypothesis: the viewing distribution by market is similar for both shows given that a main character from one crossed over to the other. Below is a scatter gram of each and every DMA (represented by purple dots) plotted against the rating for "The Walking Dead" (horizontal axis) and "Ride with Norman Reedus" (vertical axis.) Notice the drift of the DMAs from the lower left to the upper right – not a straight line by any means, but still a positive correlation. In other words, DMAs with (relatively) low ratings for one show also exhibit low ratings for the other; conversely, DMAs with (relatively) high ratings for one show also exhibit high ratings for the other: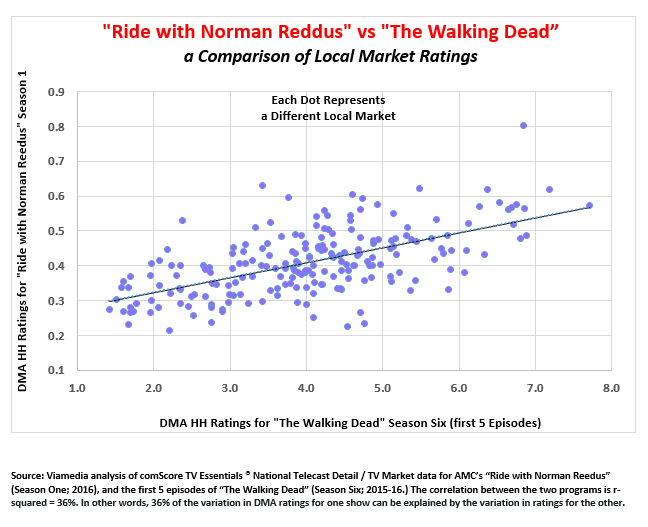 Local Cable Advertising Support
AMC's "Ride with Norman Reedus" has been on air for only one season, so we have no baseline comparisons to quantify year-over-year sales metrics. But based on records we have for other first year shows, "Ride with Norman Reedus" received fairly strong support in its inaugural season. All in all, the 6-episode series attracted 50+ advertisers who ordered 230 spots across 28 Viamedia markets (~38% of Viamedia's national footprint.) That comes to an average of 4.5 spots per advertiser. (Source: B.I.G.SM database — Copyright © 2017 by Viamedia, Inc. All Rights Reserved)
In terms of local market advertising categories, Automotive is far and away the largest, capturing a little over one-half of all cable ad investments – a figure that is ~20 share points higher than what we normally see for this category company-wide. The second largest category (Entertainment & Travel – at 10%) is also over-represented, which is not so surprising given that "Ride with Norman Reedus" is (after all) a travelogue TV series: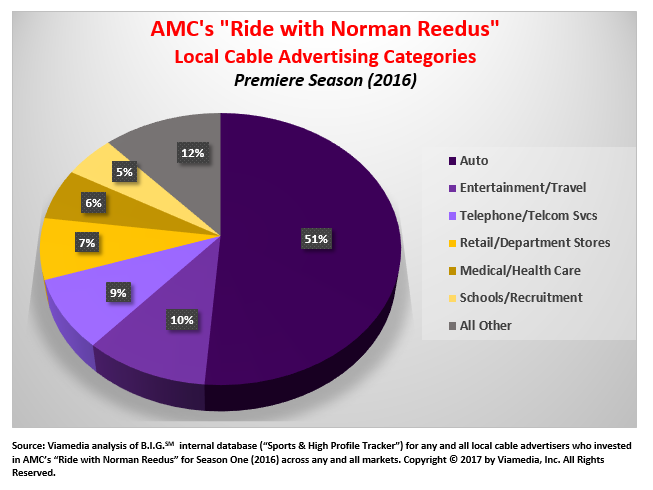 Born to be Wild
Although "Ride with Norman Reedus" has a narrowly defined audience following, the show taps into a rich American tradition that links "hitting the road" with a sense of freedom and adventure. Nearly half a century ago, the high-voltage rock group, "Steppenwolf," perfectly captured this ethos in their breakout hit, "Born to be Wild," which begins like this:
Get your motor runnin'
Head out on the highway
Lookin' for adventure
And whatever comes our way
It might as well be the theme song for AMC's "Ride with Norman Reedus," whose star quickly morphs from his taciturn role as Daryl Dixon in "The Walking Dead," to one very cool dude on a motorcycle. And no matter where Norman Reedus ends up, he is one very gracious visitor who treats everyone he meets with an honest, appealing bonhomie.