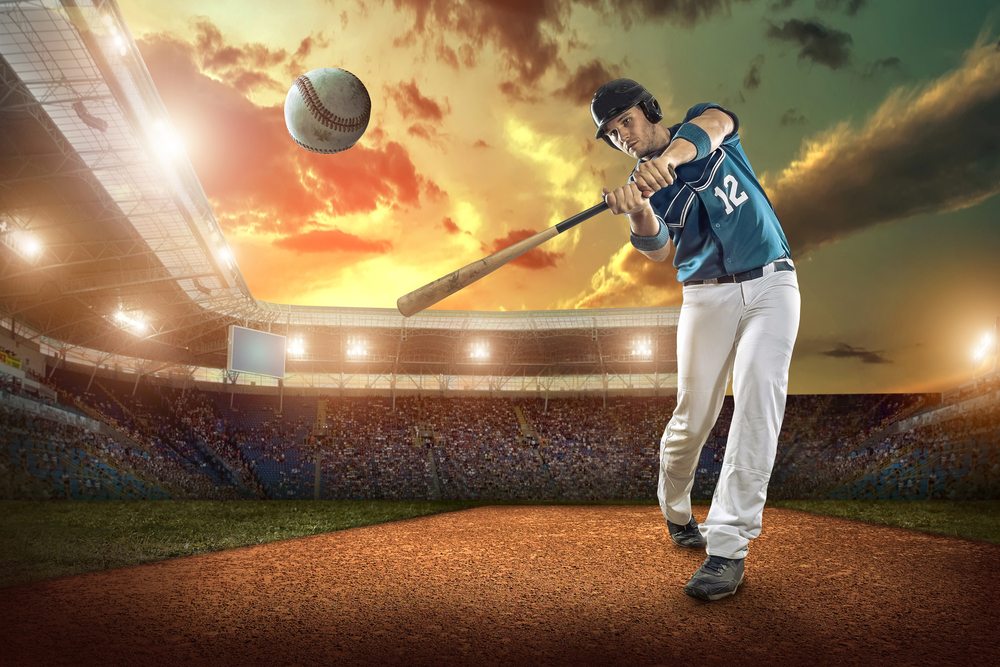 Talk about a lot of games! Nothing in the American sports world quite compares with Major League Baseball, which encompasses a 162-regular game season played by 30 professional teams from the early days of springtime through the beginning of the fall season.
By my count that comes to something like 2,430 games (stretched out over a six-month period.) And covering many of these games day-in and day-out is ad-supported cable television.
At the tip of the iceberg are five core national cable networks (MLB, ESPN, FOXS1, TBS and ESPN2) which have aired practically the same number of games (340+) over the past two baseball seasons: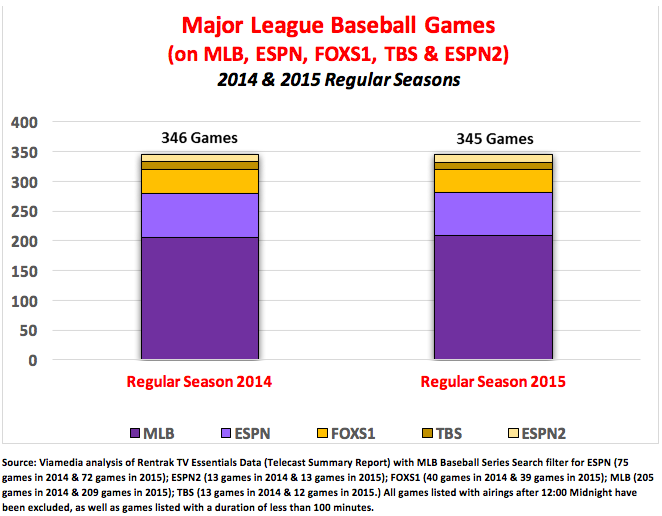 But underneath that national "iceberg" is a slew of regional cable networks (such as YES, SNY, FOX and Comcast Regional Sports Nets.) Over the past two seasons, for example, Viamedia's local cable clients invested in 1,200+ baseball games with over 80% of them (1000+ games) airing on a regional sports cable network: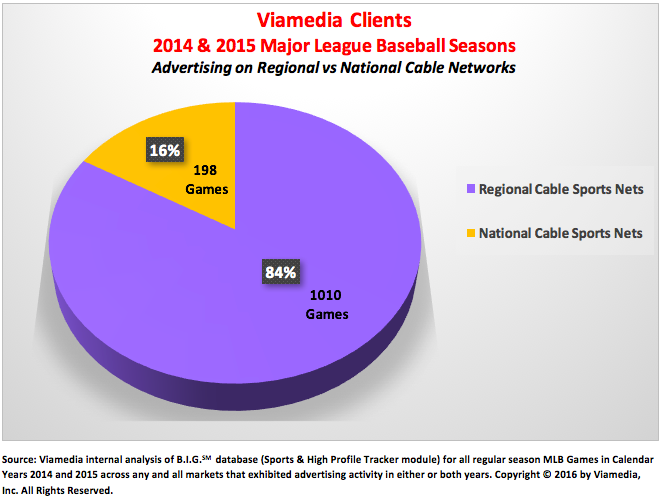 Hometown Baseball
High profile national baseball games are a cable tradition. And while these games typically pull down respectable ratings, the real ratings story takes place in the hometowns of the competing teams. And nowhere is that more evident than in the near century-long heated rivalry between the Boston Red Sox and the New York Yankees.
Early in the 2015 baseball season, the Red Sox visited Yankee Stadium on Sunday, April 12th. The game was carried on ESPN and achieved a 1.9 U.S. HH rating, but in the Boston and New York markets (not to mention the entire New England "Red Sox Nation" area), local DMA ratings were significantly higher. Indeed, the top fifteen DMA ratings for the game (out of 200+ DMAs) were all from either New York State, Massachusetts or the rest of New England: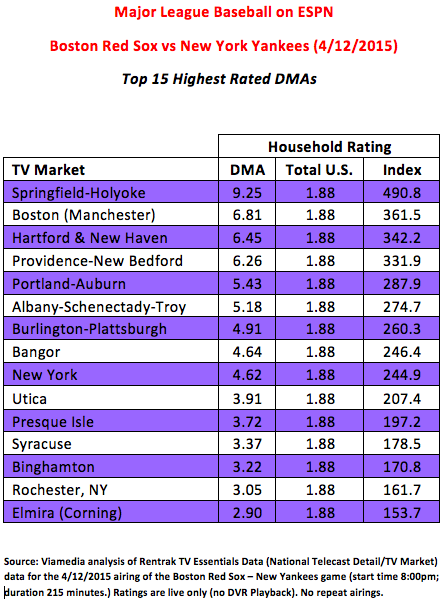 Local Cable Advertising
I'll leave it to others to debate whether or not football has displaced baseball as our "American Pastime", but when it comes to the sheer number of spots that we run on local cable, there is no argument – baseball, hands down.
Over the past two baseball seasons (excluding the playoffs), nearly 1,400 clients have ordered over 106,000 30-second spots across 69 of our markets (essentially our entire national footprint.) That comes to an average of 77 MLB baseball spots per client. Source: Viamedia internal analysis of B.I.G.SM database (Sports & High Profile Tracker module). Copyright © 2016 by Viamedia, Inc. All Rights Reserved.
In comparing local cable ad demand from 2014 (821 clients) to 2015 (868 clients), we calibrated all of our internal ad sales data on a per client basis. What we found is that the average amount spent per client rose 10.4% and was driven primarily by an increase in the number of (equivalized) :30-second units. (Source: B.I.G.SM database -- Copyright © 2016 by Viamedia, Inc. All Rights Reserved)
And as is the case with practically every major sport on cable, automotive advertisers (both manufacturers and dealerships) represent far and away the greatest level of Major League Baseball support – nearly 60% share of local cable advertising: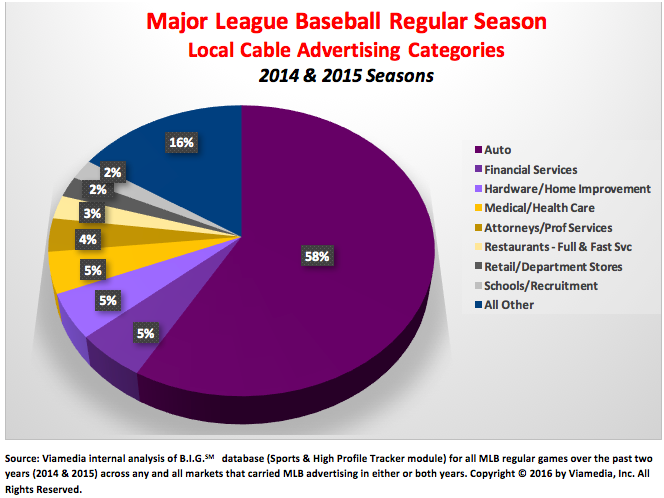 The Promise of Spring
Here is the northeast, the anticipation (and timeless charm) of baseball includes the allure of warm summer days and balmy nights. But Mother Nature has thrown a curveball at us in the Tri-State New York City area – our winter has been unusually mild, which has conjured images of baseball since early February! But as I write this blog, there are still a few chilly weeks left before the official April 3rd start of Major League Baseball at which time millions of fans across the country (and around the globe) will get to cheer on their favorite team on cable TV.