After catching a few episodes of Bravo's hit reality-series, "Married to Medicine," I immediately recalled a blog we did some time ago on Bravo's hydra-headed "Real Housewives" franchise (http://www.viamediatv.com/blog/those-housewives-are-for-real) which follows the lives and dramas of well-to-do, gossipy, middle-aged married women. Our current blog on "Married to Medicine" is cut from the same cloth, but now the focus is on well-to-do, gossipy women who are either doctors or married to doctors. But being in a highly select professional field (or associated with one by marriage) hasn't imparted a certain decorum or reserve on the main characters.
Then again, this is the television business, and good manners are not synonymous with high ratings. And that is probably why the main characters of "Married to Medicine" let it all hang out. These high octane (self-centered) Atlanta "ladies" know how to bicker, fight, back-stab and preen their way through 60 minutes per episode, and have been doing so for three full seasons (48 episodes and counting.)
I can't say I'm a big fan of the show (I doubt I'm the target audience), but at some basic level "Married to Medicine" represents guilty-pleasure viewing -- a voyeuristic look-see at a bunch of divas who encompass the entire spectrum of behavior from the sublime to the ridiculous. They also can be outrageously funny, and in the end their over-the-top behavior makes for solid ratings, although on a Live-only basis the show has surrendered viewers over the past two seasons: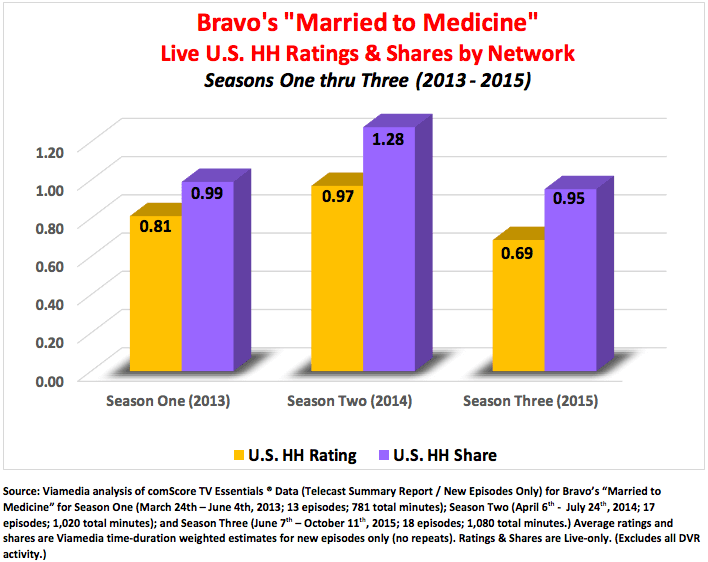 If there's a silver-lining in the show's ratings, it probably comes in the form of DVR usage which has increased each season. The importance of playback ratings can be seen in the chart below – last season, for example, 15-Day DVR playback practically doubled the Live-only rating: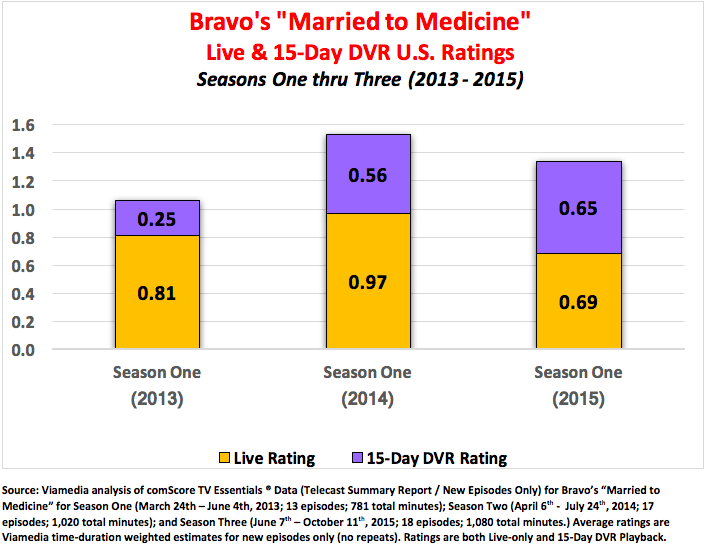 Deep Southern Roots
Even though the setting for "Married to Medicine" is in Atlanta, Georgia, we were surprised to see how deep a southern market skew there is to the show. We looked at last season's premiere episode ("Background Check Yourself"), which aired on June 7th, 2015. We ranked 200+ Designated Market Areas (DMAs) from the highest to lowest ratings and selected only those markets that achieved a local rating at least 10% higher than the national average. In all, we found 53 DMAs, and of these 46 can be found in the South. The seven remaining markets from the North are major ones (such as Detroit and Baltimore) that have significant African-American populations, which shouldn't come as much of a surprise given that all of the main characters in the show (save one) are African-American.
A picture is worth a thousand words so we've included below a heat map for the 2015 premiere episode. TV markets with above average viewing are rendered in warm colors (red/orange), while markets with below average viewing are in blue. If we draw a radius of about 350 miles around the show's hometown setting of Atlanta you can see just how popular the show is in the southeast section of the United States: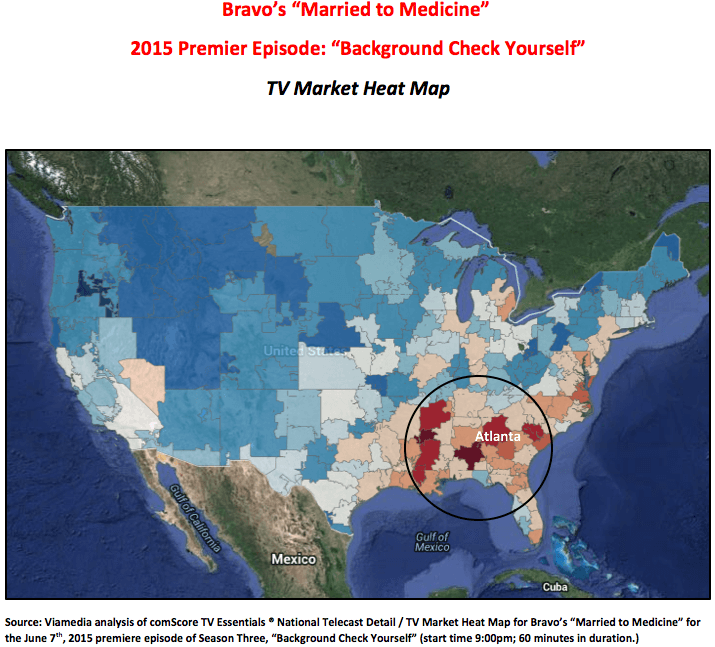 Local Cable Advertising
Over the past two seasons (2014 & 2015), over 130 local cable advertisers ordered nearly 1,400 30-second units across 37 Viamedia markets (one-half our national footprint.) That comes to ten spots per advertiser. And when we confine out analysis to only those markets that exhibited advertising on "Married to Medicine" over the past two seasons, we find a remarkable growth rate of over 100% driven primarily by an increase in the number of commercial units. (Source: B.I.G.SM database -- Copyright © 2016 by Viamedia, Inc. All Rights Reserved)
In terms of local cable advertising categories, Automotive captured the lion's share at 41%, which is even higher than auto's average share across all Viamedia advertisers (typically in the mid-30% range.) Not surprisingly – given that the show focuses on real-life doctors and spouses of doctors -- the second highest category is Medical/Health Care at 10%, which is about four percentage points higher than the figure company-wide. Note as well the Health Club/Fitness category. While the share is only 4%, that is practically double the level company-wide, which may be a reflection of the fact that one of the show's stars – Dr. Jacqueline Walters – is devoted to a rigorous fitness, work-out regimen:

On to Season Four
We've noted in past reality-series blogs that it's sometimes hard to know where the "reality" ends and the make-believe acting (at the behest of the director) begins. Not that these (sometimes crazy) Atlanta ladies need a whole lot of direction! Indeed, this show is a perfect illustration of "life imitating art" as one of the characters -- when the cameras were not rolling – attacked her husband for real when he discovered she was having an affair. The subsequent lurid events became so much fodder for the gossip columnists who covered the story like sharks at feeding time. That occurred toward the end of Season Three which should provide enough salacious speculation for loyal viewers of the show as Season Four gets underway on November 6th.