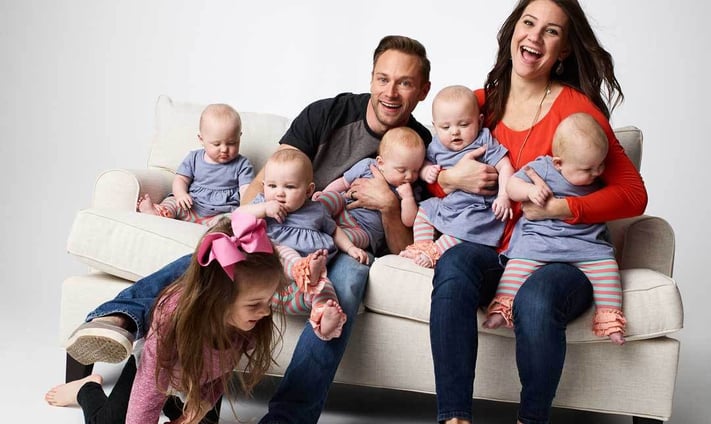 Advances in reproductive science are not without their unintended consequences. One need look no further than my own village's school district, which averages about 100 students per grade. A few years ago, one particular grade had something like five sets of twins. A mere random coincidence? Based on general population statistics… probably not, but rather the result of advanced fertility technology.
But nothing that occurred in my hometown school district quite compares to what happened to the Houston, Texas couple, Danielle and Adam Busby, who welcomed into the world a set of female quintuplets!
Danielle and Adam already had one child, but making the jump from a family of three to a family of eight is no mean feat! TLC found their story so compelling that the network decided to create an entire reality series about the Busbys (cleverly entitled, "OutDaughtered") which returned for a third season in mid-July. For the record, the Busby quintuplets are the result of Danielle undergoing I.U.I treatment (the same as for her first child.) But however the miraculous birth came about, the fact remains that every single child-rearing task (no matter how simple) becomes a gargantuan feat. TLC's web site puts it all into perspective: "40 bottles a day, 420 diapers a week and feedings every three hours…"
That's quite a handful right there, and all of the crazy juggling by the Busbys has caught on with the viewing public. In Season Two, "OutDaughtered" accrued viewing levels that were 30%+ higher than TLC's average ratings and shares within the show's 9pm time slot. Moreover, the show managed to slightly increase viewership in its second season – something almost unheard of today in light of the general decline in Live TV viewing: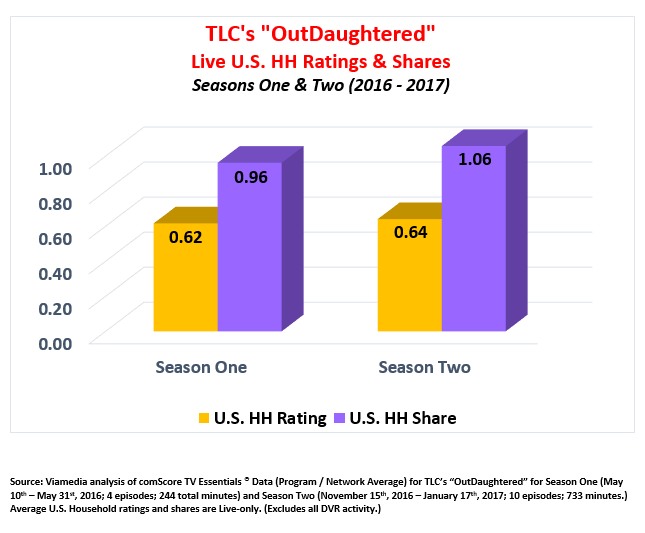 In addition to robust Live ratings, "OutDaughtered" also exhibits strong levels of Live+ DVR ratings as well, and by 15 days of DVR activity, the show's rating (1.41) is more than twice the Live-only rating (.64) -- a sure sign of viewer interest and engagement: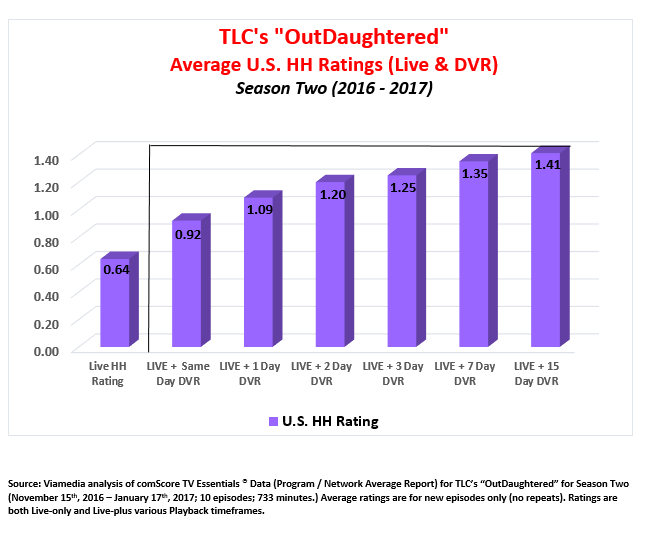 Broad Appeal with a Midwest Breadbasket Skew
In the chart below, we selected the Top 25 DMAs with the highest "OutDaughtered" ratings through the first five episodes from Season Two (2016 – 17.) A few observations are in order: 1) While the show has a northern market skew, "OutDaughtered" is also popular in the south (with 9 out of 25 DMAs represented); 2) Eight different census regions can be found amongst the Top 25 markets, but the dominant one is the East North Central (with 8 DMAs), which covers the states of Michigan, Illinois and Ohio; and, 3) The most popular state, however, is Pennsylvania (with 4 DMAs), which is part of the Mid-Atlantic Census Region: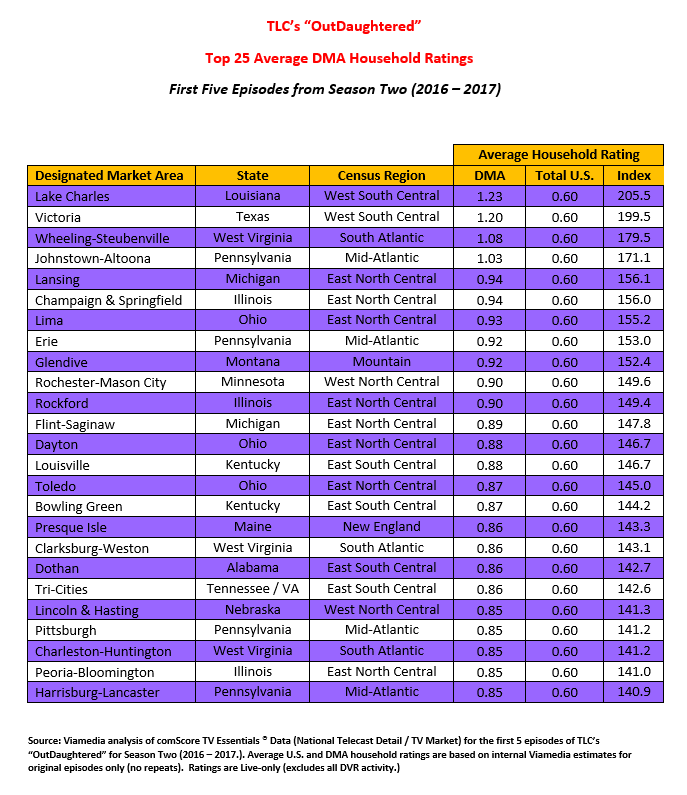 Local Cable Advertising
Over its first two season (which encompasses 14 episodes), "OutDaughtered" attracted over 50 clients who ordered 200+ 30-second spots across 25 Viamedia markets (approximately one-third of our national footprint.) That comes to an average of four spots per client. Moreover, local cable advertising demand doubled (on a per episode basis) from Season One to Two.
Source: B.I.G.SM database -- Copyright © 2017 by Viamedia, Inc. All Rights Reserved
While Automotive captures the highest share of local cable advertising on "OutDaughtered" (31%), that figure is actually a tad below what we typically see for this category company-wide across all programming. In contrast, the next three highest category shares -- Financial Services, Restaurants and Tune-In (TV/Radio/Media) – are all significantly higher (than average) by at least a factor of four: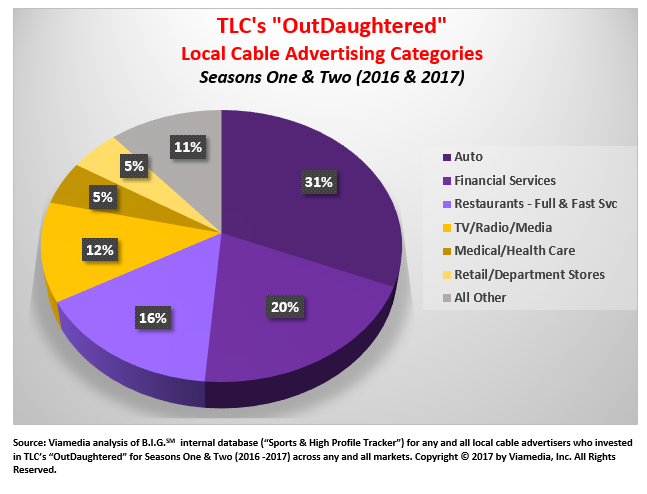 On to Season Three
Perhaps the popularity of "OutDaughtered" is not so surprising. Over 80 years ago, it seemed like the entire world was transfixed with the birth of the Dionne quintuplets – five identical girls from Canada whose very survival uplifted the spirits of so many during the Great Depression. They became the media darlings of their era, and I suspect some of the sheer wonderment of quintuplets is drawing modern day viewers to the Busby daughters as well.
[/et_pb_text][et_pb_text admin_label="JSims Byline" saved_tabs="all" background_layout="light" text_orientation="left" border_style="solid" background_position="top_left" background_repeat="repeat" background_size="initial" _builder_version="3.0.64" global_module="15694"]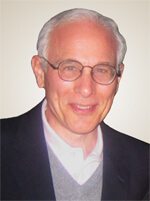 Written by Jonathan Sims
VP of Media Research, Viamedia
[/et_pb_text][/et_pb_column][/et_pb_row][/et_pb_section]