"Home for the holidays" conjures many images, and when it comes to watching television during the month of December, that image is probably ad-supported cable television, which accrues over three-fourths of all gross impressions associated with holiday-themed TV programming.
As 2016 winds down with the holiday season and New Year's fast approaching, we thought we'd depart from our standard blog format and concentrate – not on a particular show or major sport – but rather on cable programming thematically linked to the upcoming holiday season.
In order to do so, we started out by searching the comScore database (for the calendar month of December, 2015) utilizing four key series search terms: "Holiday"; "Christmas"; "Hanukkah"; and "Kwanzaa." In all, the comScore Summary Report returned 1,000 telecasts, which we grouped into one of three major sources of viewing:
1) Ad-supported Cable Networks (78.6% of Gross Impressions);
2) Broadcast Networks (19.4% of Gross Impressions);
3) Premium Cable & Home Shopping Networks (2.0% of Gross Impressions.)
Source: Viamedia analysis of comScore TV Essentials ® Data (Telecast Summary Report – Top 500) for the calendar month of December, 2015 for all programming that was generated by entering the following terms within the Series Search field: "Holiday", "Christmas", "Hanukkah" and "Kwanzaa." All sports programs have been eliminated from the analysis. Gross Impressions were derived by multiplying a program's audience delivery by the duration for that program. All programs were then grouped into one of three sources of viewing: Ad-Supported Cable (700 total program airings); Broadcast Network TV (69 total program airings); and Pay Cable & Home Shopping Networks (232 total program airings.) Gross Impressions were derived from programs that represent both new and repeat episodes, Live-Only airings (no DVR activity).
When we parsed the holiday-themed ad-supported cable programs by genre, the appeal of movies came into ultra-sharp focus, with three movie segments in particular comprising the majority of cable's December holiday offerings: Holiday-themed movies (28%); Comedy-themed movies (24%); and Romance-themed movies (21%.)
The "Big 3" of Holiday-Themed Programming
By our count, there are 40 ad-supported cable networks providing holiday-themed programming for the month of December, with three major networks – Hallmark Channel, ABC Family and Lifetime – accruing two-thirds of all ad-supported gross impressions (which translates into a little over one-half of all impressions across all sources of viewing):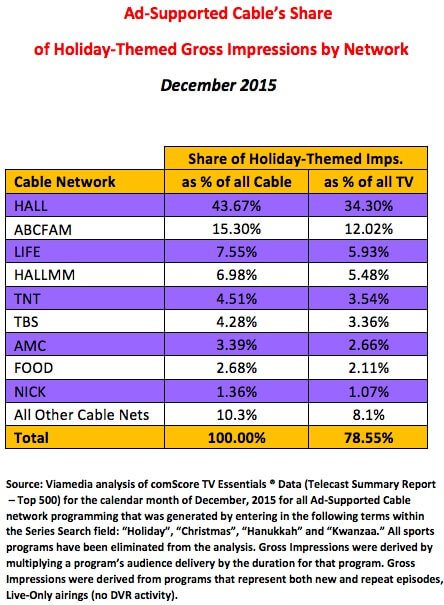 In focusing on the "Big 3" holiday cable networks, it's clear that holiday-themed programming plays a crucial role in their overall December programming lineups. Hallmark Channel, for example, devotes practically one-half of their total day programming minutes to holiday themed programs; Lifetime nearly one-quarter and ABC Family 18%. And their respective ratings get quite a boost with holiday-themed programs, which range anywhere from ~50% (ABC Family & Hallmark), to +100% (Lifetime) over and above their non-Holiday themed programming: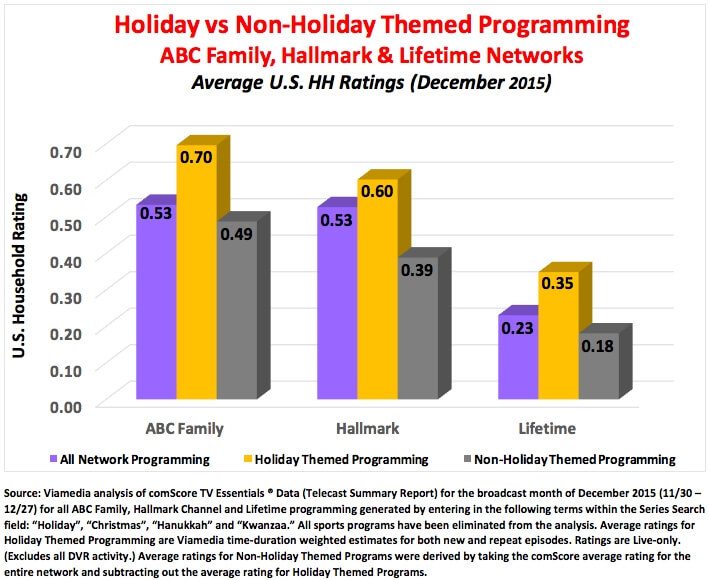 Local Cable Advertising
There is tremendous demand for Holiday-themed programming during the last month of the year and we estimate that 3-5% of total Viamedia company-wide advertising dollars accrue to such programming. Last December 2015, over 1,400 clients ordered 82,000 30-second spots on holiday programming across 71 Viamedia markets (practically our entire nation-wide footprint.) That comes to an average of 56 commercial units per client over the month of December.
Source: Viamedia internal analysis of B.I.G.SM database (Sports & High Profile Tracker module.) Copyright © 2016 by Viamedia, Inc. All Rights Reserved.)
Not surprisingly, the three networks that delivered the greatest number of Gross Impressions also received the greatest level of local cable advertising support. Collectively, Hallmark Channel, ABC Family and Lifetime accounted for two-thirds of all holiday-themed cable impressions and 61% of all advertising dollars.
Local Cable Product Categories
The five largest local cable advertising categories comprise 68% of all advertising investments, and are all associated with the December Holidays, such as year-end automotive sales, entertainment & vacation travel, dining out and retail & grocery shopping: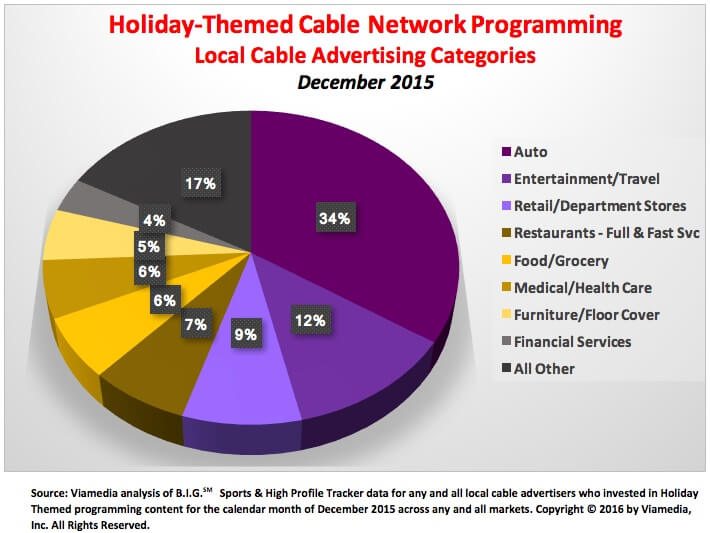 A Month Filled with Holiday Programming
As family and friends gather together to enjoy the holiday season, there is sure to be good food, good company and more than enough holiday-themed programming on cable to take everyone through the entire month of December and into the New Year. Enjoy!