The "American Dream" has taken on different meanings over the generations, including the post-World War II desire of owning one's home, which has since morphed into the dream of re-modelling one's home; flipping one's home; and trading up to something bigger and better.
Such is the zeitgeist of our times that an entire cable network – HGTV – is devoted to practically anything and everything having to do with one's home. Indeed, one could argue that the growth of HGTV has accelerated the interest in buying, selling, preserving and upgrading American homes from coast to coast.
Originally, HGTV was called the "Home, Lawn and Garden Channel", but there is only so much television content one can devote to landscaping and home gardens, so HGTV has focused its energies on the home itself, tapping into the hope that our homes – as an equity investment – will grow in value (not to mention providing an enjoyable, livable environment.) Today, HGTV has become a Top 10 Cable Network on the backs of several home shows, such as "Property Brothers", "Flip or Flop", "House Hunters" and "Beachfront Bargain." Add to this list one of HGTV's most successful home shows, "Fixer Upper", which begins its fourth season on November 29th, 2016.
"Fixer Upper" is a reality TV series that focuses on turning a house with "potential" into a dream come true. The dream-makers are the very appealing husband-and-wife team of Chip and Joanna Gaines, who are highly competent professional home remodelers. Actually, Chip is the contractor (and one seriously funny dude)… and Joanna the creative interior designer. Together they help couples turn not-so-glamorous houses into beautiful homes. And they do so with honesty, humor, light-heartedness and a respect for their clients. Perhaps that is why this show has been defying ratings gravity over the past three seasons – a time when the vast majority of television shows have experienced ratings erosion. But not "Fixer Upper", which has surged in Live U.S. household ratings and shares over its first three seasons; indeed, its Season Three average rating of 2.0 placed it in the Top 4 of all networks (broadcast and cable) within its Tuesday 9pm time slot:
DVR Usage
"Fixer Upper's" Season Three household rating of 2.0 is even more remarkable when you consider that it represents a Live-only viewing metric. But when you look at the show's audience within a 15-day DVR playback window, the ratings go through the roof – a sure sign of strong viewer interest and engagement in the show: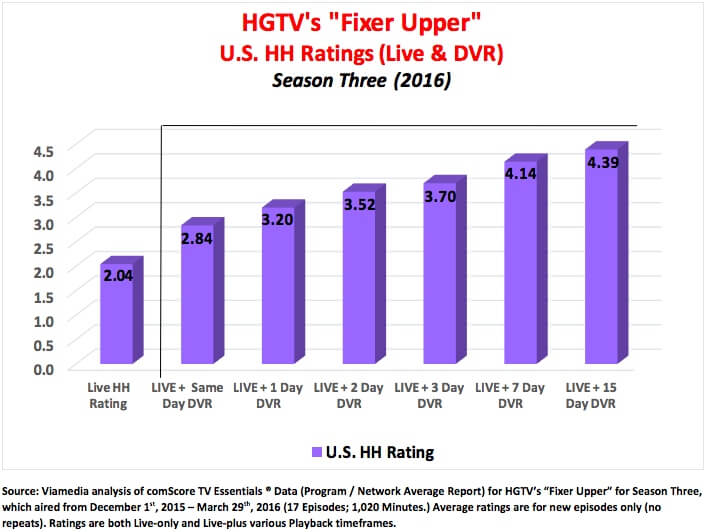 Upscale Viewers
An important aspect of "Fixer Upper" is that it features couples who do not have a ton of money, so this isn't a show about over-the-top home renovations for the rich and famous. Still, home ownership – however humble – implies a certain level of income (and assets), which may explain why audiences are (to a certain degree) upscale.
Below we've broken out ratings by household income and you can see that audiences rise to their highest levels within the five income breaks from $75,000 to $200,000. From an education perspective, the data are somewhat more nuanced. Normally, we associate greater incomes with higher levels of educational attainment, and that is certain true with "Fixer Upper" which attracts College and Graduate School viewers at a relatively high rate with indices 108.6 and 121.9 respectively. But the show also attracts a relatively high concentration of viewers who haven't attained a high school diploma (120.4 Index.) In other words, viewers to the show exhibit a bi-modal distribution when it comes to educational attainment: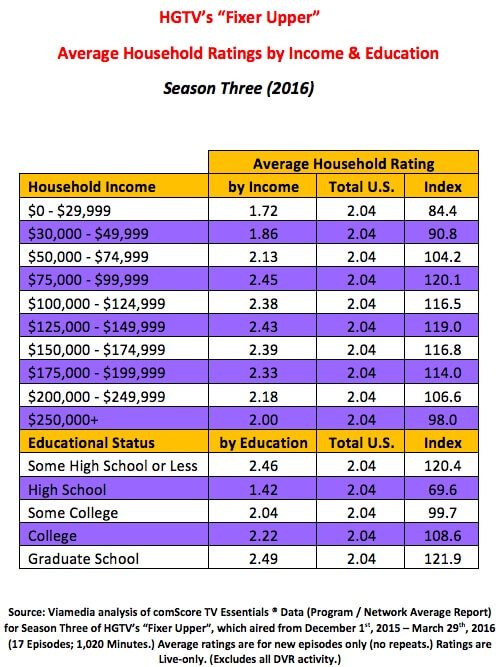 Local Cable Advertising
Local Cable advertising support for "Fixer Upper" is growing at a very rapid pace, which is not so surprising given the audience growth the show has experienced since its inception. From Season Two to Three, the number of Viamedia markets that exhibited advertising in the show nearly doubled (to 35 markets), while the number of local cable clients tripled (to 99.) And on a per episode basis, the average amount invested per client increased 43% over the past two seasons.
(Source: B.I.G.SM database -- Copyright © 2016 by Viamedia, Inc. All Rights Reserved)
In terms of local cable advertising categories, Automotive captures one-third of all investments in "Fixer Upper", which is right in line with the level we normally see for this category company-wide. The next two largest shares – 18% for Furniture & Floor Coverings and 10% for Real Estate -- are substantially higher than the levels we normally see which makes a lot of sense given the nature of the show: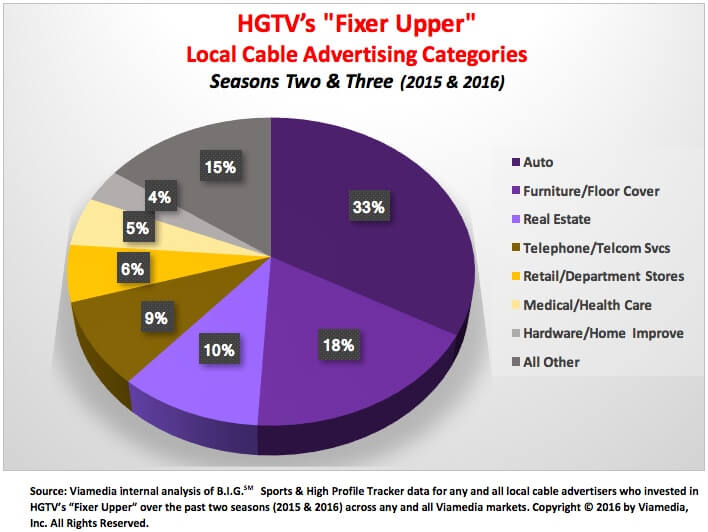 On to Season Four
Clearly, the remarkable ratings success of "Fixer Upper" has something to do with the near-obsession so many Americans have in re-doing, re-rebuilding and refurbishing their homes. But that alone doesn't explain the underlying appeal of this show which starts with the ultimate fixer-uppers… Chip and Joanna Gaines, who go about their business in a genuine, heart-felt manner that is funny, entertaining and really quite fascinating as they transform ugly-duckling houses into perfectly beautiful homes.