Did Bravo ever nail it with the title of their long-running reality series, "Flipping Out", now entering its 9th Season with a two-night premiere starting Wednesday, July 13th. When the show first aired back in 2007, it seemed like half of America was engaged in buying and selling homes on the quick. In other words, "flipping" them. And, so, the show got its start with host, Jeff Lewis, fixing up multi-million dollar west coast homes and re-selling them for a tidy profit. But "Flipping Out" also describes Mr. Lewis, who is a serious control freak (it's definitely clinical), which leads him to flip out once and awhile with his employees and just about anyone else on the show.
But Jeff Lewis is a survivor who is also a living and breathing contradiction to F. Scott Fitzgerald's famous quote, "There are no second acts in America." Jeff Lewis has re-invented himself several times over and the show morphed right along with him (along with his assistant and maid) from unadulterated house-flipper, to home remodeler /interior designer extraordinaire. There's also his partner (Gage Edwards) with whom he'll become a father this upcoming season via a surrogate mother. Of course, there's a lot more psychotherapy for Jeff Lewis as he prepares to become a dad for the very first time.
What is even more extraordinary is the show's ratings success! Over the past three seasons (2013 – 2015), "Flipping Out" has actually grown its Live U.S. household ratings and shares—something we rarely see today in light of the overall decline in linear TV usage levels: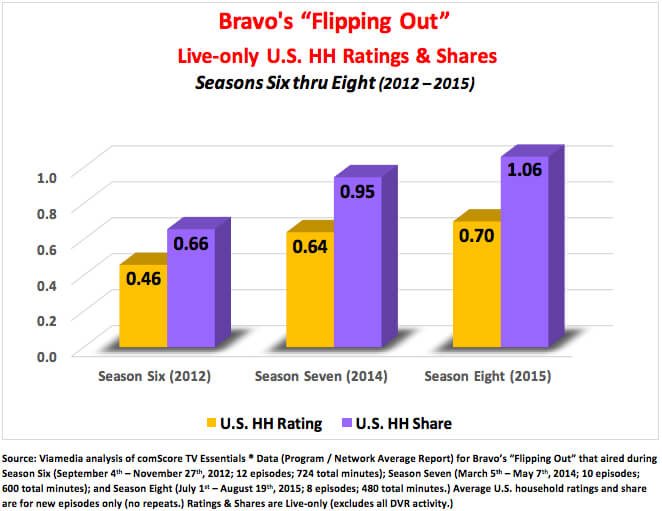 All the more remarkable: We often see declines in Live viewing off-set by increased levels of DVR playback activity. But in the case of "Flipping Out", ratings have risen for both Live and DVR ratings: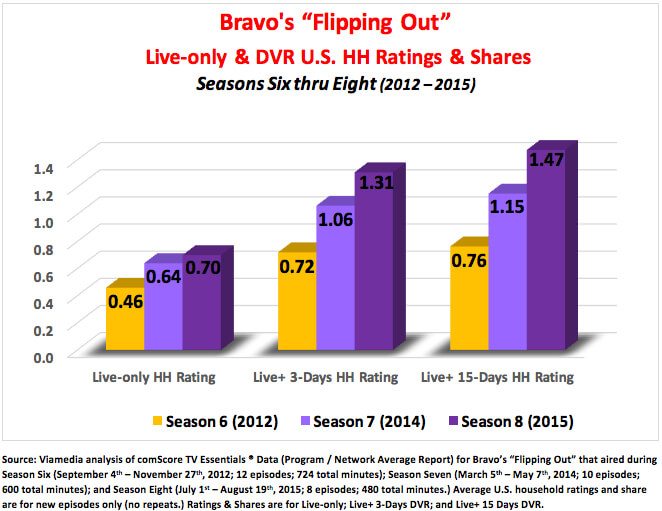 Upscale & Educated
"Flipping Out" attracts a very high concentration of homes that are both upscale and highly educated. In the graph directly below, you can see household ratings rise with higher levels of income. Homes with $250,000+ income, for example, have a rating nearly three times higher than the rating for homes with under $30,000 a year in income (1.47 versus .51.) And in the chart below that, homes that contain a member with an advanced graduate degree watch "Flipping Out" at a 24% greater rate (124.4 Index) than the average American home: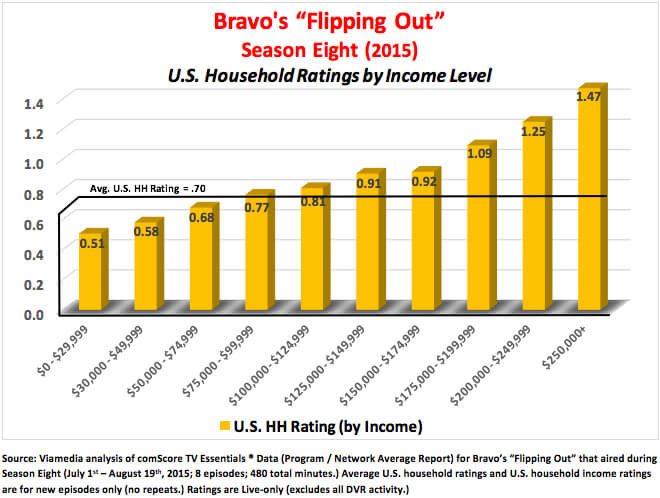 Local Cable Advertising
Over the past two seasons of "Flipping Out" (2014 & 2015), the show has attracted over 100 local cable advertisers who have ordered nearly 600 units across thirty-three Viamedia markets (nearly one-half Viamedia' s national footprint.) That comes to an average of over five commercial units per advertiser. (Source: B.I.G.SM database -- Copyright © 2016 by Viamedia, Inc. All Rights Reserved)
In terms of product categories, "Flipping Out" attracts an unusually large array of advertisers that capture a meaningful share of voice. And while Automotive is the largest (19% share), that figure is substantially below what this category captures company-wide, which is usually in the low 30% share range. Taking up a lot of the Automotive slack are four categories with natural tie-ins to the show: Hardware & Home Improvement; Food & Grocery; Entertainment & Travel; and Furniture & Floor Coverings. Collectively, they capture 37% share of all spending – essentially double the rate for what we normally see company-wide: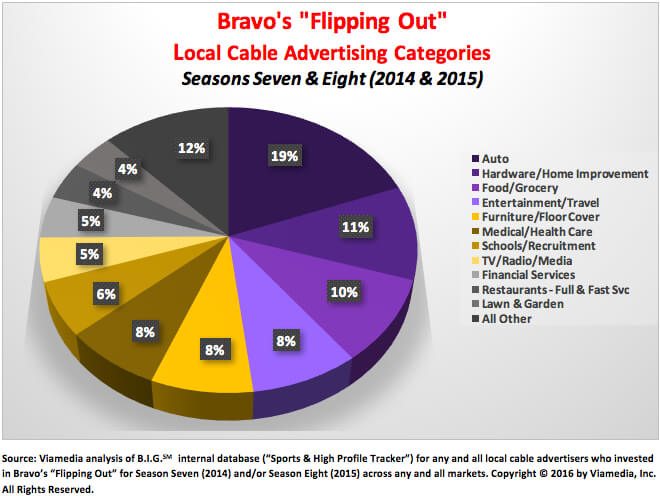 Two years ago, "Flipping Out" received an Emmy nomination for "Outstanding Unstructured Reality Program." Quite frankly, I haven't a clue what that means. Indeed, one could argue that "Flipping Out" is neither "unstructured" nor "reality-based." For one thing, the star of the show, Jeff Lewis, is way too much of a control freak to allow for very much on the show to go unstructured. (He only makes it look unstructured.) And as far as being a "reality show"… well, that's in the eye of the beholder. Technically speaking, it is since Jeff Lewis and his team are working with real clients on real projects. But there's such an outlandish aspect to Jeff Lewis who is not above serving out hyperbolic entertainment, such as when he decided to purchase breast implants for one of his assistants. Is that "reality" or theatrics?
But in the end maybe it really doesn't matter how we classify "Flipping Out." Jeff Lewis has become his very own idiosyncratic franchise (he even has an entire line of designer paints named after him) and he has managed to do something very rare in television today – and that is to grow his audience.