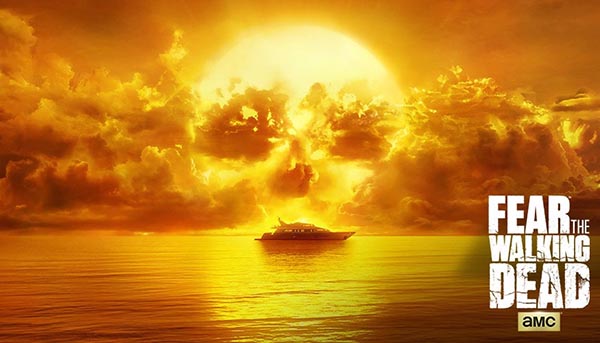 What do you get when a dysfunctional family, living in a not-so-glamorous part of L.A., begins to realize (along with their neighbors) that they have the makings of a very serious Zombie problem on their hands?
Welcome to AMC's prequel to their run-away, smash hit, "The Walking Dead"… "Fear the Walking Dead," which kicks off Season Two on April 10th with a run of 15 new episodes, more than doubling its 6-episode output from Season One.
For fans of "The Walking Dead", the prequel does not begin with the sort of regular Zombie culling (i.e., dash, smash or bash their brains out) they've become oh-so accustomed to. Rather, the viewer gets a fairly large dose of what American family life can be in the 21st Century. And we're not talking about "Ozzie & Harriet" or "My Three Sons." There's Madison Clark (played by Kim Dickens of "Deadwood" fame) who has two children – Nick (played by Frank Dillane), who happens to be a community college drop-out and heroin addict; and Alicia (played by Alycia Debnam-Carey) who, unlike her brother, happens to be a very good student. Her worst offense is she's just bratty.
That's just one side of the family. Madison Clark is a single mom who is living with a fellow high school teacher, Travis Manawa, (played by the New Zealand actor, Cliff Curtis), who went through a bitter divorce that alienated him from his son, Christopher (played by Lorenzo James Henrie.)
In other words, the "fear" in "Fear the Walking Dead" is as much about the viewer's knowledge of what is coming as it is about any fear this cobbled together family may have as it tries to navigate its way under trying circumstances (which are, of course, about to become a lot more trying.) That's what makes this show an atmospheric thriller. Something is afoot, but none of the characters really know what's in store for them!
"Fear the Walking Dead" can easily stand on its own, but it also has the best possible tune-in campaign in the form of "The Walking Dead", which generated a huge built-in audience for the prequel. And the premiere episode that aired last summer didn't disappoint, blowing out of the gates with a 3.5 U.S. Household rating (good for a 4.7 share.) According to Nielsen (as reported in the August 24th edition of Variety), "…the 90-minute debut of "Fear the Walking Dead" became the No. 1-rated cable series launch on record with 10.1 million viewers, including 6.3 million adults 18-49." The subsequent episodes did not quite reach the premiere episode level, but the real ratings story behind the show is the significant DVR activity – a sure sign of viewer interest and engagement: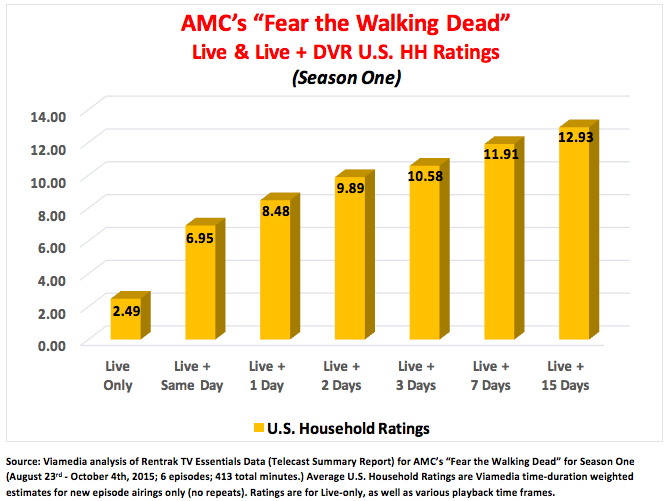 You would have thought that a change in Zombie venue to Los Angeles (from the state of Georgia where a good deal of the "The Walking Dead" action takes place) might have led to a change in local market viewing skews. Perhaps viewer interest would have migrated westward right along with the Zombies.
Nope.
Below is a list of the Top 20 DMAs that achieved the highest ratings for the premiere episode of "Fear the Walking Dead." Thirteen of these DMAs also made the Top 20 DMA list for the premiere episode of "The Walking Dead" (October 1th, 2015 -- Season Six):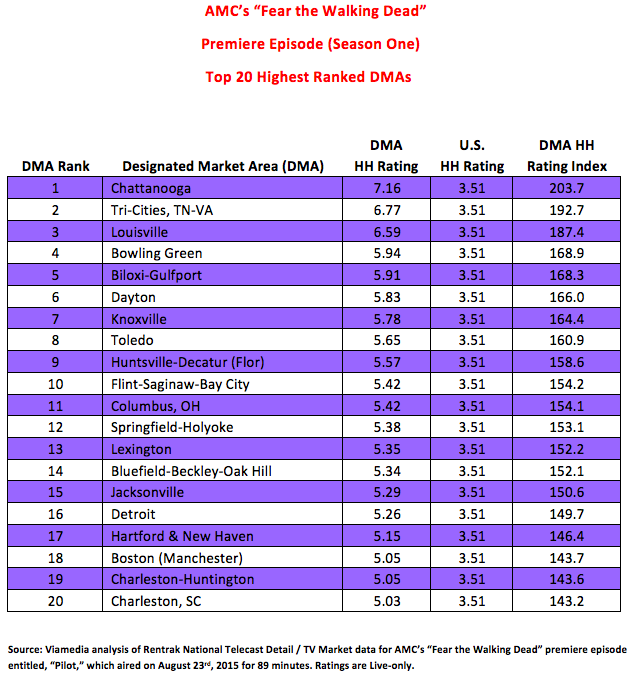 Beyond a comparison of just the highest viewing DMAs, we decided to compare ratings for the two shows across all 210 DMAs. Below is a scatter gram of each and every DMA (represented by purple dots) plotted against the rating for "The Walking Dead" (horizontal axis) and "Fear the Walking Dead" (vertical axis.) Notice the strong, tight drift of the DMAs from the lower left to the upper right – almost in a straight line. In other words, DMAs with (relatively) low ratings for one show also exhibit low ratings for the other; conversely, DMAs with (relatively) high ratings for one show also exhibit high ratings for the other: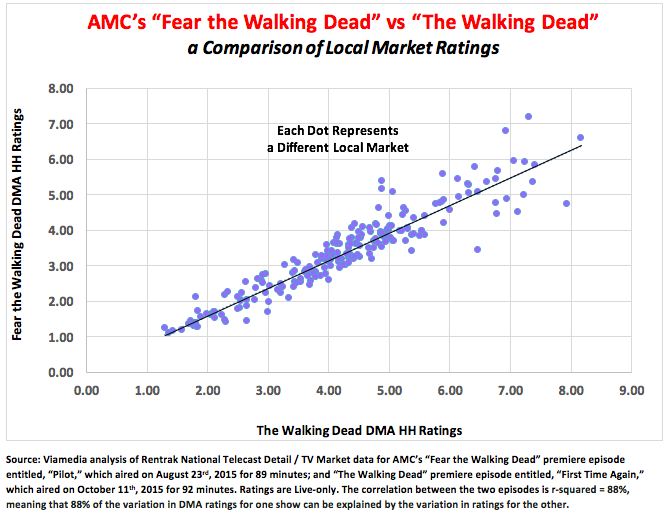 Local Cable Advertising Demand
"Fear the Walking Dead" has been on air for only one season, so we have no baseline comparisons to quantify year-over-year sales data. The metrics for Season One, however, are strong with well over 100 clients ordering nearly 500 30-second spots in the show. On average, that comes to over four local cable commercials per client across 34 markets (roughly one-half of Viamedia's national footprint.)
(Source: B.I.G.SM database -- Copyright © 2016 by Viamedia, Inc. All Rights Reserved)
Of the dozens of shows (and sporting events) we've blogged about in this space, "Fear the Walking Dead" is one of the few programs that has attracted significant shares across numerous product categories. Usually we see Automotive shares in the 30%-to-40% range for scripted dramas, leaving little room for other advertising categories. Not so for "Fear the Walking Dead" in which Automotive (24% share) has plenty of company with nine other categories accruing shares ranging from 4% (Restaurants), to 16% (Tune-In advertising):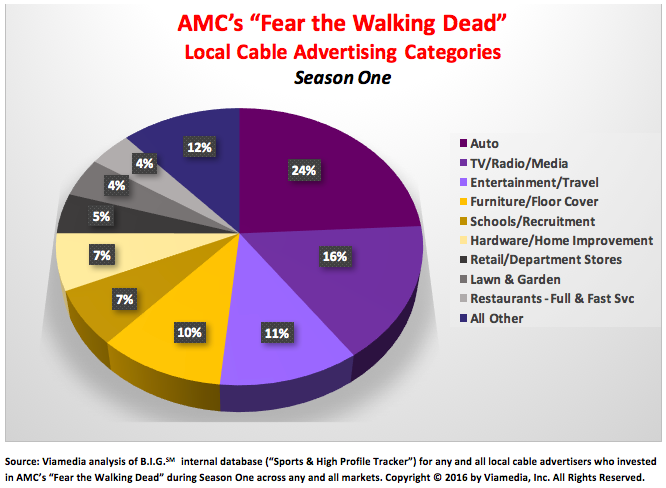 On to Season Two
You've got to hand it to the writers and directors of "Fear the Walking Dead." They allow the plot to unfold gradually as the denizens of Los Angeles believe they're dealing with a virus. Even the military has been called in and foolishly locks up innocent people along with those who are supposedly "infected." And that's the hook for millions of "Walking Dead" fans who know better – it's never a good idea to lock away human beings with Zombies!
The schedulers over at AMC also know what they're about by weaving the seasons together of their two mega-hit Zombie shows; in essence, they've become lead-ins for one another. Season Six (Part 2) of "The Walking Dead" ends just a week before the start of Season Two for "Fear the Walking Dead." That's the sort of double-barrel action that'll ensure millions of returning viewers when "Fear" returns on April 10th.