Men's NCAA College Basketball on Cable
With the college football season well under way, it's just a matter of weeks before the Men's NCAA College Basketball Season swings into action – a marathon of games (thousands of them) that run for months before ending in "March Madness" and the crowning of the NCAA Division I National Champion. And as is the case with college football, Ad-Supported Cable is the premier source for watching college basketball all season long – from the regular season on ESPN, ESPN2 and The Big Ten Network (BTN), to the NCAA Tournament on TBS, TNT and TruTV.
Our focus today is on the regular men's basketball season and conference championships that air from November through early March. Last season, cable was responsible for delivering the vast majority of household gross impressions (as well as upscale and highly educated household impressions) with ESPN alone accounting for over 40% of them: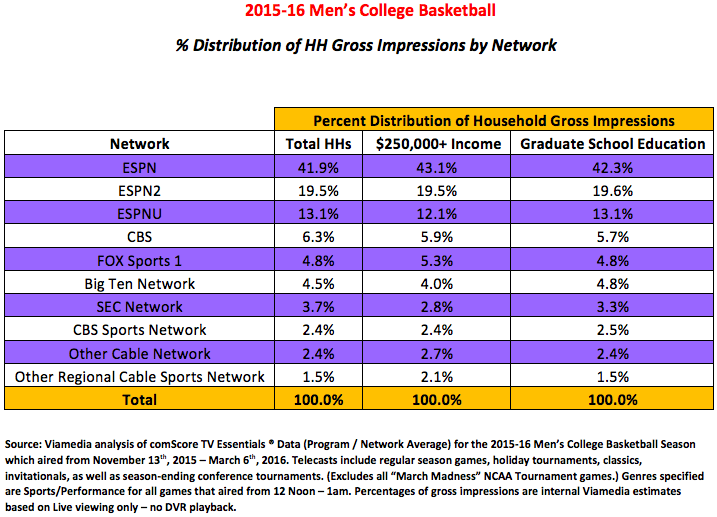 The highest national cable ratings for men's college basketball accrue to EPSN which has exhibited slight gains in average Live audience ratings and shares – something practically unheard of given the steady rise of digital video usage and DVR activity. But ESPN has managed to swim against the ebb tide of linear television viewing as can be seen in the 4-year track below: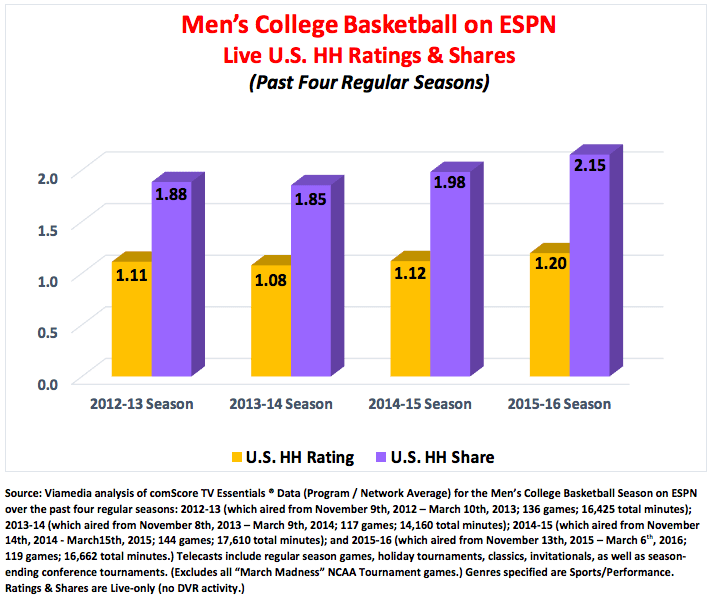 Local Market Ratings Soar Above the Rim
The strong national ESPN ratings story is really just the tip of the iceberg, since behind the network's nationwide popularity is the tremendous spike in local market interest when hometown teams appear on national telecasts. For example, the December 12th game between the visiting Tar Heels of North Carolina versus the Texas Longhorns delivered a national U.S. Household rating of 1.19. But in each team's respective home DMA, ratings were four-to-five times higher. And that's not unusual at all as can be seen in the chart below in which DMA ratings can surpass national levels ten-to-fifteen times… and more: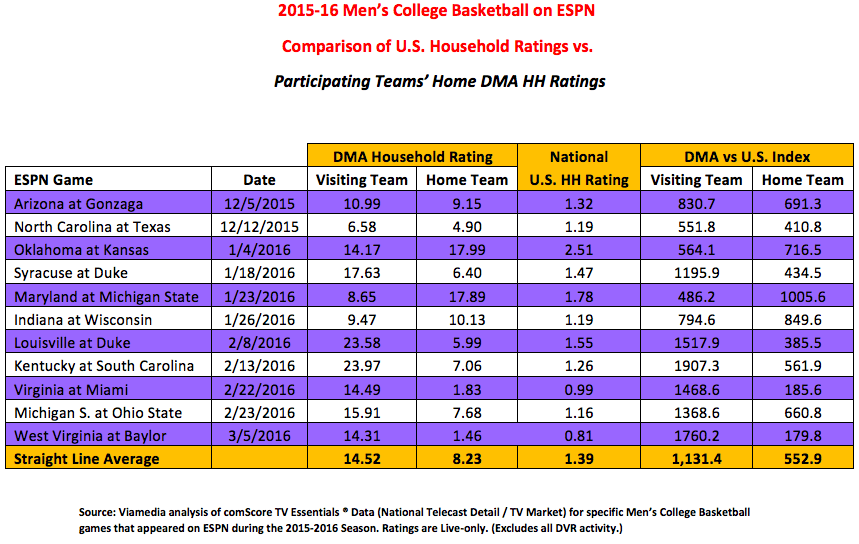 Local Cable TV Advertising on College Basketball
Based on what we've heard from our local advertisers, their continued strong interest in men's basketball is based on the general excitement and high profile nature of the college game in their respective markets. Over the past two regular seasons (2014-15 & 2015-16), over 700 Viamedia clients ordered 18,500+ 30-second spots across 63 markets (~85% of Viamedia's nationwide footprint.) That comes to an average of nearly 26 spots per advertiser.
Source: Viamedia internal analysis of B.I.G.SM database (Sports & High Profile Tracker module). Copyright © 2016 by Viamedia, Inc. All Rights Reserved.
Although ESPN captures (by far) the largest share of local cable advertising dollars (and highest ratings), it should be noted that there are several other cable networks that have attracted the interest of Viamedia clients nationwide. ESPN2, for example, captured 22% of local dollars, followed by the Big Ten Network at 9%, leaving another ten regional cable networks dividing an additional 9%: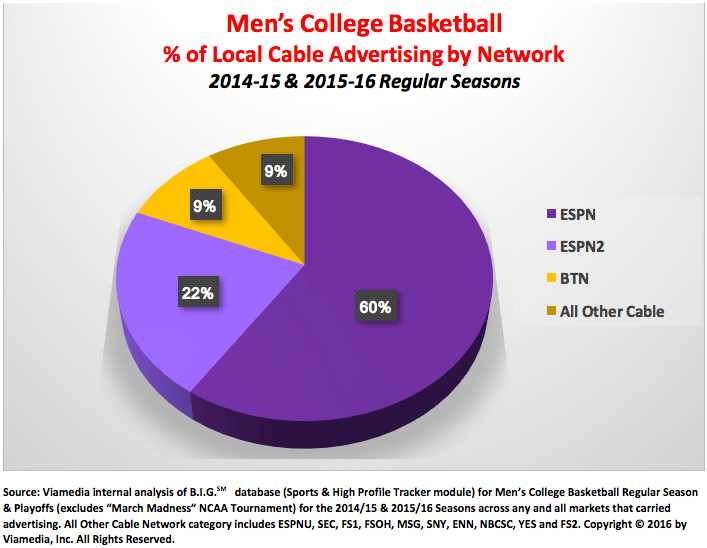 Local Cable TV Advertising by Industry
While Automotive captures the largest share of local cable advertising dollars (39%), and is 3-times the size of the next highest category (Medical & Health Care), the Automotive figure is not that much higher than what we normally see company-wide at Viamedia during the months of November through March. Indeed, compared to several other sporting events we've profiled in this space, a 39% automotive share is on the "low" side. In contrast, the Medical & Health Care category (13% share) is about double what we typically see for this category, and the same can be said for Hardware & Home Improvement's 7% share:
Go Wildcats!
Our outlook for the upcoming college men's basketball season is not entirely unbiased. Viamedia's hometown is Lexington, Kentucky -- just a few miles down the road from the University of Kentucky. To say our company (not to mention the entire market) is wild about the Wildcats would be an understatement. And so -- like millions of fans across the country -- I couldn't resist taking a peek at the pre-season polls which place the University of Kentucky as high as #2 in the AP Top 25. But no matter where your team stands before the first tip off on November 11th, there's one thing for certain that's guaranteed… every fan of college hoops will get to watch his or her favorite team on cable TV. Enjoy the games!