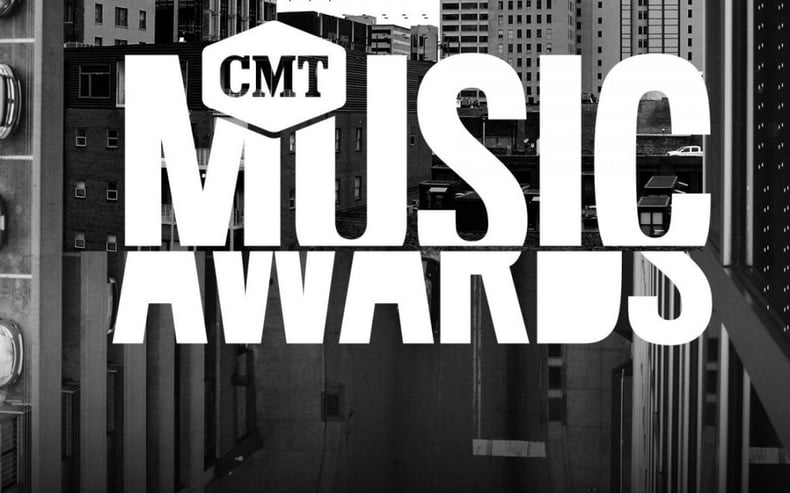 The New York Tri-State radio stations of my youth stayed mostly away from country music. Once in a while a few cross-over hits would get "spin time", like Johnny Horton's, "Battle of New Orleans" and Roger Miller's "King of the Road." But for the most part, these were looked upon as novelty songs rather than tunes firmly planted in the tradition of country music.
My, how times have changed!
Today, it seems as though every other song on the radio has some connection to country music – thanks especially to Country Pop stars like Taylor Swift and Carrie Underwood. Which is another way of saying that country music has evolved in so many directions, capturing millions and millions of fans beyond the genre's original Southern Appalachian roots. Here are just a few country sub-genres as noted in Wikipedia: "Hillbilly Boogie"; "Bluegrass"; "Honky Tonk"; "The Nashville Sound"; "The Bakersfield Sound" and "Outlaw Country." Oh, and my personal favorite, "Country Rock," as epitomized by such groups as the Byrds, the Eagles and the Allman Brothers Band.
In short, Country has something for everyone, which is why the CMT Music Awards are so popular -- a fan-centric annual event hosted by the Country Music Television cable network. Every year – for the past 15 years -- fans of Country Music get to vote on their favorite videos and songs with the results simulcasted across CMT, Nick at Nite and TV Land. Last year, the trio of Viacom networks delivered a Live 2.25 U.S household rating, which surpassed the rating from the previous four CMT Awards. And while viewing may have received a boost from multiple network Live airings (i.e., the Awards aired exclusively on CMT from 2011 – 2014), that hardly detracts from the popularity of last year's show: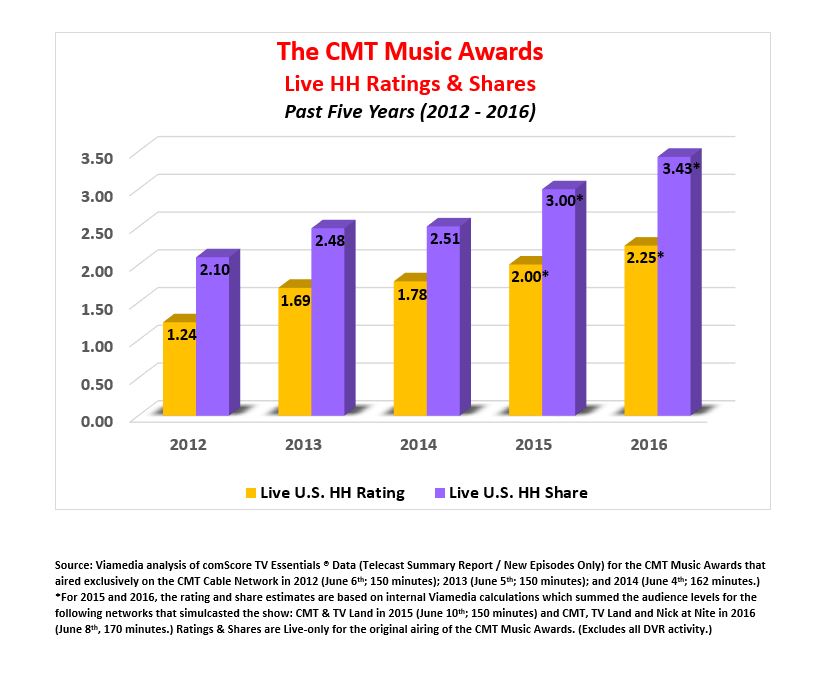 Geographic Skew
While Country Music fans can be found just about anywhere, the CMT Awards still attracts the strongest following in the southeast across several markets in which Viamedia has a strong presence. Out of the Top 25 highest rated DMAs for the 2016 CMT Music Awards, 16 are located in the south, while others (such as Evansville, Indiana) are part southern in their outlook given their proximity to the South: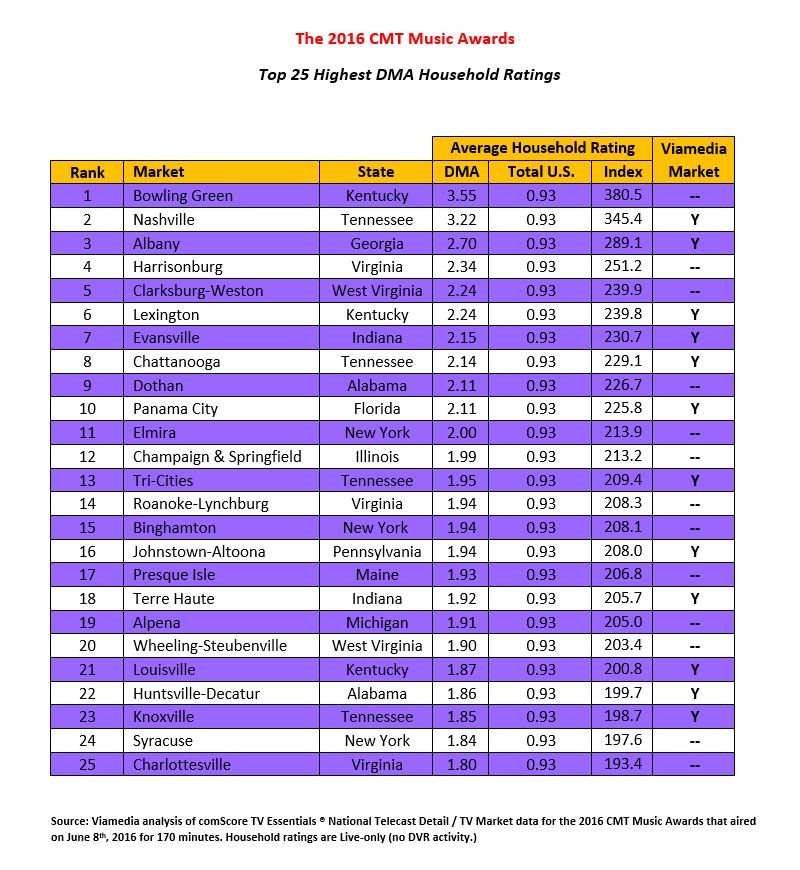 Of some note is the fact that many of the markets above appear on the Top 25 DMA list for the other two networks that simulcast the show: Nick at Nite and TV Land. But while the geographic skew for all three networks is more or less similar, the same cannot be said about their demographic delivery. For example, the CMT Network and TV Land both over-indexed on Caucasians (118 and 115 Indices respectively), whereas Nike at Nite under-indexed (93.) For its part, Nike at Nite over-indexed for Hispanics (144 Index), which towers above the indices of the other two networks. Nick at Nite is also more upscale than CMT and TV Land. Bottom line: different cable networks -- airing the exact same content -- does not necessarily translate into the same demographic delivery skews.
Local Cable Advertising
Over the past three annual CMT Music Awards (2014 - 2016), 50+ local cable advertisers have ordered 140 30-second spots across 21 Viamedia markets (~one-quarter of Viamedia's national footprint.) That comes to an average of 2.6 spots per Viamedia client. Of some note is the diversity in local advertising categories for the CMT Awards. Usually, high profile events attract such a large share of automotive advertising that very few other categories accrue significant share levels. But not the CMT Awards in which we find several categories with double-digit shares, including Furniture & Floor Coverings and Lawn & Garden with 12% and 10% shares respectively: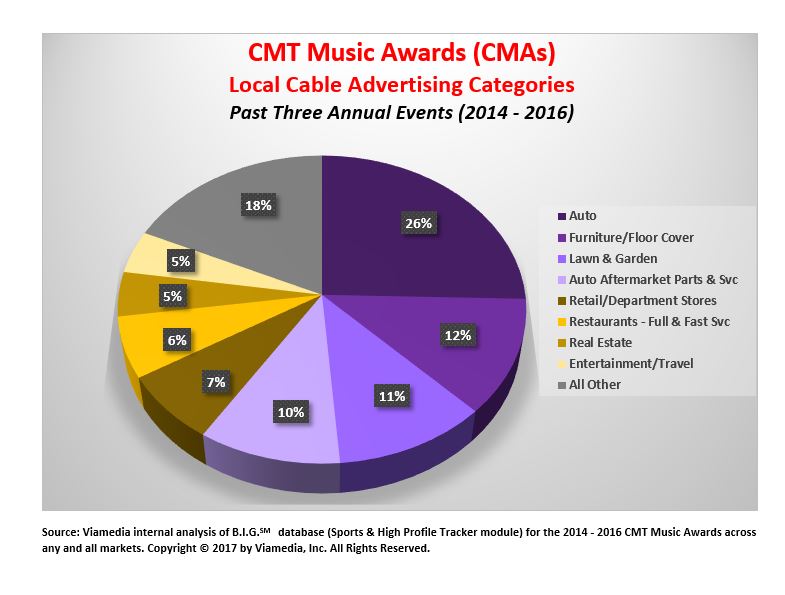 The Hottest Ticket in Town
CMT recently announced its nominations for the 2017 Music Awards, which will air on June 7th. Fan voting for the nominees began May 9th and will run until the 5th of June. Fans of all ages will have a lot to think about as the biggest names in Country Music are up for several categories, including singer-songwriter, Kelsea Ballerini, and country musician Keith Urban receiving four nominations each.
Hosting the "loudest night in country music" is none other than Nashville TV series heart-throb, Charles Esten… better known as the guitar-strumming, Deacon Claybourne. Joining him on stage will be some of the hottest acts in all of country music, including Blake Shelton and Miranda Lambert, not to mention a first-ever CMT stage performance by none other than cross-over mega-star, Carrie Underwood. And to show the world that the country music genre has spread its tentacles far and wide, the Awards will also include a live performance from one of my generation's most awesome funk bands – Earth, Wind & Fire! With such a famous (and diverse) line-up in store, it's a sure bet that the 16th CMT Music Awards will be the hottest ticket in Nashville. And on TV as well.