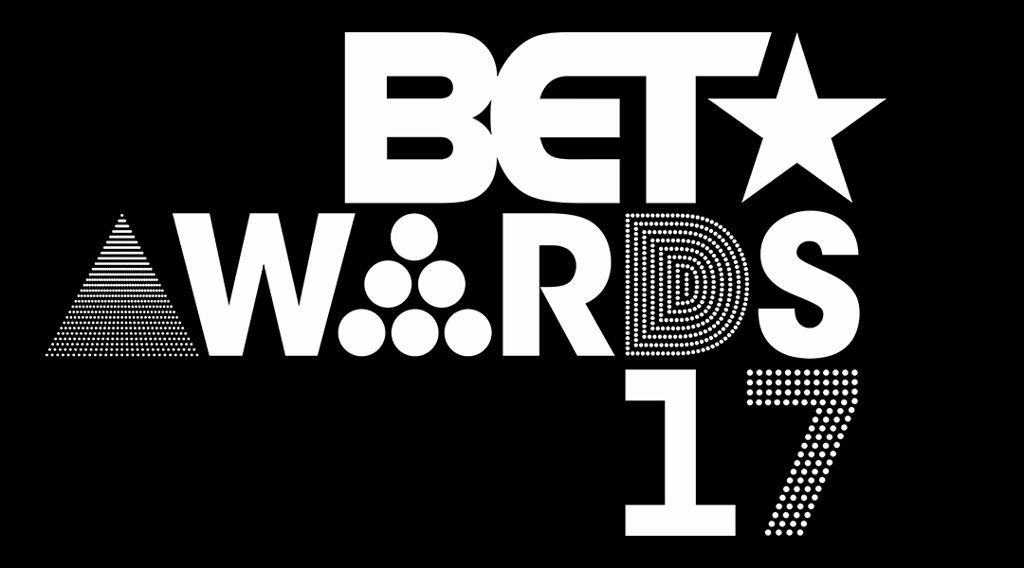 Every year brings a special performance that animates the Annual BET Awards, which airs for a 17th time on June 25th. Last year was the hush, hush surprise appearance of Beyoncé, who opened the entire show (with Kendrick Lamar) singing their hit rap song, "Freedom". It was one more spectacular performance for an Awards show that honors African Americans and other minorities in various fields of entertainment, including acting, music and sports. Indeed, the Annual Awards Ceremony is one of the most famous annual events in all of cable, and is most certainly a very special jewel in the BET crown!
The BET Awards has always been a big ratings winner, but we had to do a double-take when we looked at comScore's metrics for last year's rendition. Prior to 2016, the Awards consistently delivered (from 2013 – 2015) a Live U.S. Household rating north of 3.0. But last year (2016) the Live rating fell precipitously. It turns out, however, that BET's parent company (Viacom) decided to simulcast the show across all of its media properties – something like a dozen cable networks, including MTV, VH-1, Comedy Central, Nike at Nite, etc. When we simply added all of the Live rating points together, the 2016 BET Awards delivered quite handsomely: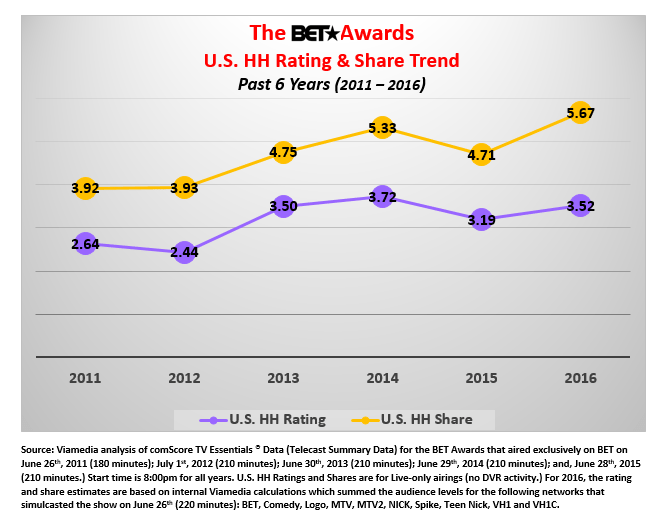 The BET Awards not only delivers consistently strong viewing, but it also captures one of the highest ratings in its Sunday evening time slot. Last year, for example, the entertainment extravaganza placed third in its 8 – 11pm time slot (across all of the Viacom networks):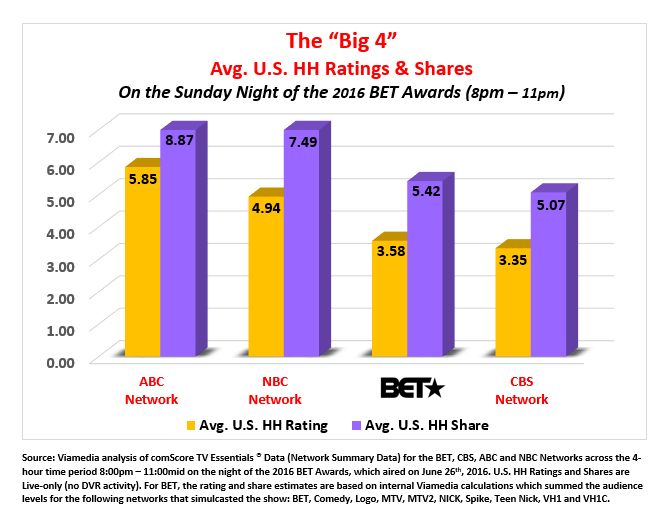 Local Market Viewing Skews
It's a pretty safe bet that a cable network will not deliver a strong national rating unless it is capturing above average viewing levels, not only in the largest TV markets, but across a broad swath of local television markets as well… and the BET Awards is no exception. Last year, for example, in the Top 10 largest DMAs, The BET Awards delivered an average rating that was 30% higher than the total U.S. rating.
But when we looked at the Top 25 highest viewing markets, two very strong patterns emerged. The vast majority of markets (23 out of 25) are Southern; and there is (not surprisingly) a decided African-American skew to these markets. For example, in terms of overall household market size, the median rank is #93 (out of 200+ DMAs), but from an African-American household perspective it's #27: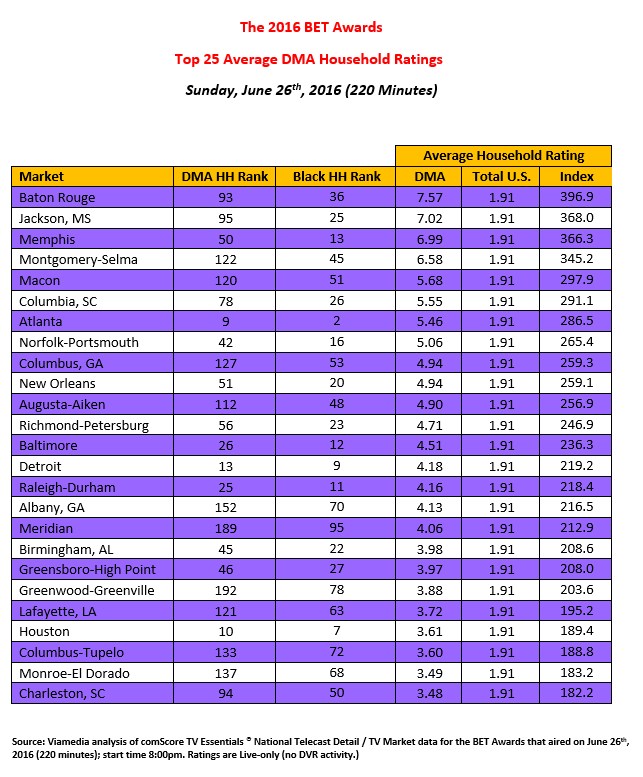 Local Market Advertising Demand
Over the past two Annual BET Awards shows (2015 & 2016), over 50 local cable clients have ordered 260+ 30-second units across 26 Viamedia markets (one-third of our national footprint.) That comes to an average of over five spots per client. And in terms of local cable advertising categories, Automotive and Entertainment & Travel captured the two largest shares (at 31% and 25% respectively.) The critical difference, however, is that Automotive's share is right in line with the level we see company-wide, whereas Entertainment & Travel's share is 3-times higher. Also over-represented in the BET Awards Show is Tune-in (TV/Radio/Media), as well as Schools & Recruitment: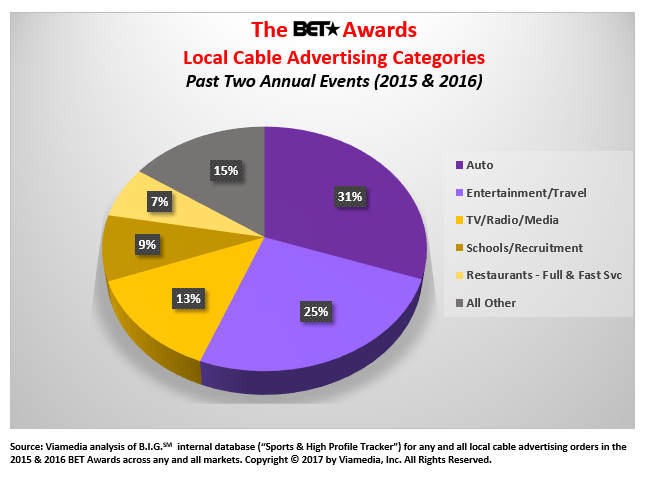 The 17th Annual BET Awards
What makes the BET Awards so unique is that, it not only recognizes the artistic achievements of African-Americans and other minorities, but it does so across so many endeavors… acting, sports and, of course, music. This year's show will be hosted by comedian, Leslie Jones (from Saturday Night Live) and will feature live performances by numerous stars, including Lil Wayne, Chris Brown and DJ Khaled. And two superstars -- Beyoncé and Bruno Mars -- lead all other nominees with seven and five nominations respectively. There's even a little sibling rivalry this year as Beyoncé vies with her sister, Solange, for best album of the year. Which is just another reason why this show promises to be such a huge cable hit and most likely BET's highest rated show for the entire year!