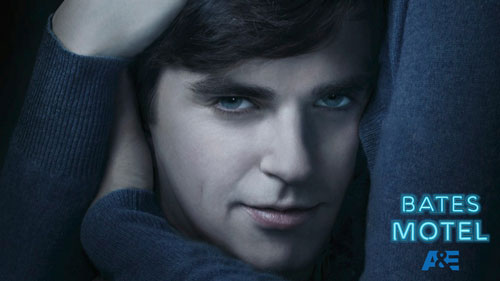 The original 1960 Alfred Hitchcock horror movie, "Psycho" made cinematic history with its iconic Bates Motel shower scene in which a young real estate secretary on the lam (played by Janet Leigh) is stabbed to death by a shadowy figure to the sound of pulsating, screeching music.
But the movie's ultimate shocker isn't the murder scene but the strange, macabre relationship between the motel's proprietor, Norman Bates (played by Anthony Perkins) and his mother – or rather what remains of his mother. You see, Norman Bates has quite the mother complex – so much so that he keeps her around long after he has murdered her. The guilt-ridden, oedipal fixation is so great that Norman Bates has assumed the identity of his mother while trying desperately to hold onto his own – that is, as an unassuming hotel proprietor.
So, what would happen if we turned back the clock on this pretty little mess to a time when Norman Bates was a young teenager and his mother still very much alive?
Welcome to A&E's "Bates Motel" -- the prequel to "Psycho" -- which begins Season Four on March 7th and stars Vera Farmiga as Norma Bates, the over-protective, over-adoring mother of a young, shy and mentally unstable Norman Bates (played by Freddie Highmore.) Clearly, the similarity in names is no coincidence. This is the sort of mother-son relationship made in hell, and made that much worse by the circumstances they find themselves in as owners of the Bates Motel in a small, west coast seaside town. The writers and directors of the show have created a universe of murder and mayhem that revolves around Norma and Norman and the unsavory characters pulled into their gravitational force field. There's Dylan Masset, for example, (played by Max Theiriot) – Norman's half-brother whose father is Norma's brother. In other words, incest. And then there's Norman's love interest, Bradley Martin, (played by Nicola Peltz) who convinces Norman to finally leave town with her. Big mistake; she winds up murdered by Norman, or is that Norman acting out in the persona of Norma?
It's all very unsettling and quite strange, which is maybe why audiences flocked to the show in its premiere season (2013). Since then, however, Live viewership has fallen considerably and by the end of Season Three "Bates Motel" averaged a decent (not great) .8 U.S. household rating (1.1 share):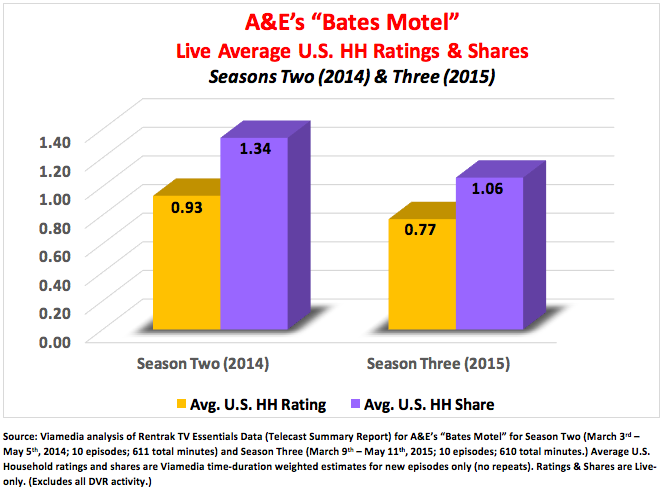 It should be noted, however, that despite the decline in Live ratings from Season One to Three, viewers still maintain a very high interest in the show as can be seen in the chart below. Live ratings may be off in Season Three, but DVR+15 day ratings have soared: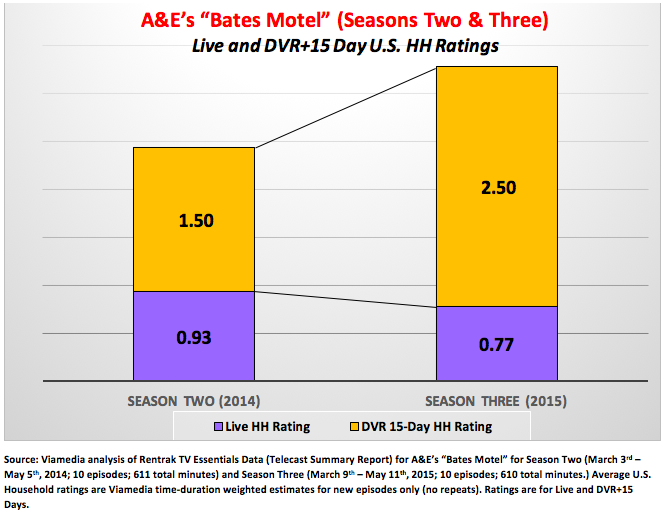 Given the small, coastal town setting for the "Bates Motel", we thought there might be a rural market skew to the viewers of the show. But after a review of PersonicX cluster ratings, that assumption has gone by the boards. What we did find is that the show tends to attract Home Owners with no children and homes on the lower end of the income scale.
As a reminder, PersonicX is a household-level consumer segmentation analysis that divides practically every home in America into one of seventy unique clusters across an array of demographic, behavior-graphic and lifestyle characteristics. By matching the unique characteristics of PersonicX clusters to their set-top-box panel homes, Rentrak has created PersonicX HH ratings for all the programs they measure.
Out of 70 total PersonicX Clusters, we found a dozen with a minimum 115 cluster household ratings index (or higher) for "Bates Motel". Ten out of these twelve clusters are classified as having no children, and while these clusters have a definitive downscale income skew, they are nevertheless home owners (nine clusters):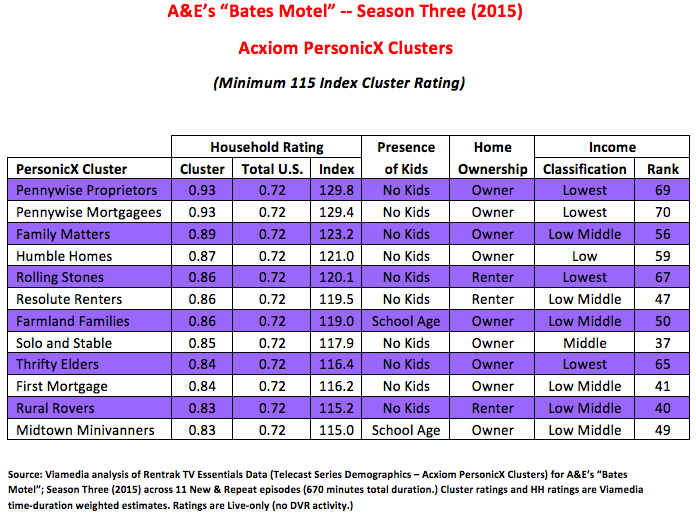 Local Cable TV Advertising Demand
Over the past two seasons (2 & 3), "Bates Motel" has attracted over 170 local cable advertisers, who have ordered nearly 1,100 30-second spots across 46 Viamedia local markets (60%+ of our nationwide footprint.) That comes to an average of a little over 6 spots per advertiser. (Source: B.I.G.SM database -- Copyright © 2016 by Viamedia, Inc. All Rights Reserved
And in terms of product categories, Automotive (41% share) and Tune-in (32% share) are so predominant that the remaining shares are highly fragmented amongst several other categories – none of which capture more than a 4% share: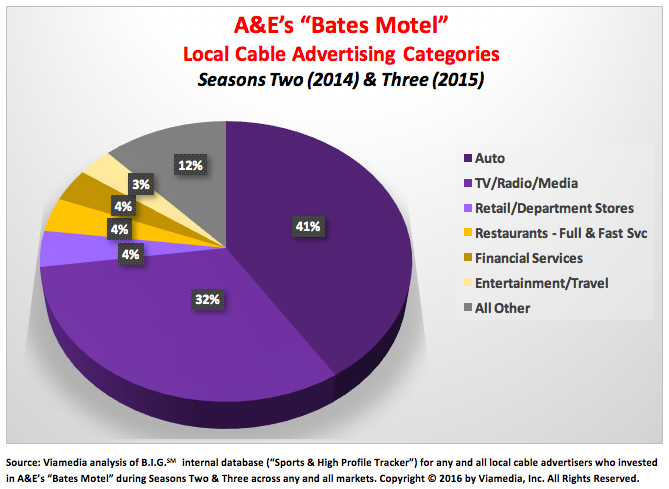 Season Four (and Beyond)
It isn't easy for the creators of "Bates Motel" to sustain a plausible narrative flow that is both original and entertaining. After all, their entire series rests squarely upon the very broad shoulders of an iconic, classic film. In the end, just how many story lines can the creators weave around what is essentially an oedipal mother-son relationship that has gone wrong? Perhaps that is why they've limited each season to a maximum of ten new episodes. But the writers and directors must be doing something right because this series has been renewed for not only a fourth, but a fifth season as well. And based on the live and DVR viewing levels we've seen so far, the show promises to attract significant audience levels for at least the next two seasons… if not beyond.