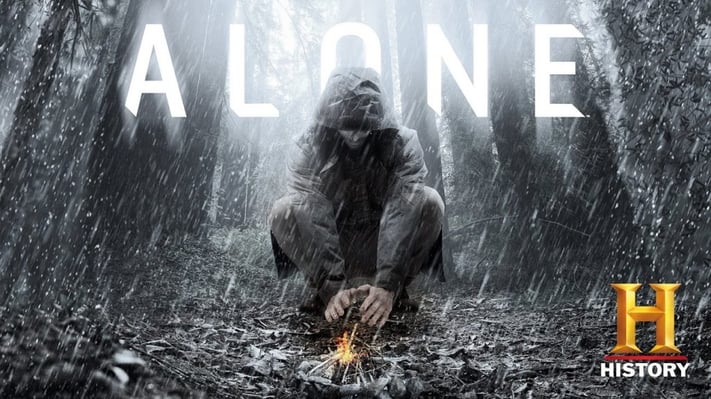 History's "Alone", which returned for a fourth season on June 15th, 2017, is a reality-based survival series with a difference. Unlike better-known series, such as CBS's long-running "Survivor", "Alone" has no cameramen and crew awaiting just outside the camera lens in case anything (really) goes wrong. There's no script, no tag teams, no ceremonies and no contest goals save for braving the elements and surviving for as long as possible (up to a year on one's own.)
The show begins with ten contestants, who are dropped off in a wilderness area. In the first two seasons, the setting was Vancouver Island; Season 3 Patagonia, Argentina. These aren't contestants chosen because they may "look good" in front of the camera, but rather because they possess real survival skills developed over the years from their love of the outdoors. They are allowed ten items only (such as tarps, sleeping bags and fishing lines), and then dropped off to fend for themselves… not collectively, but alone hence the title of the show.
Well, not exactly alone. The contestants are self-filming / documenting their lives and, if things go very badly (like starvation, animal attack, etc.) they have an emergency satellite telephone… just in case. But that is the wellspring for the entire show… a certain tension between toughing it out for as long as possible, versus giving up and calling in the rescue crew. The contestant who holds out the longest (one year is the limit) is the winner, taking home half a million bucks.
This unusual, gritty reality-series was a huge hit in Season One, before settling back and stabilizing in Seasons Two and Three with solid (if not great) ratings and shares, which are about 10% lower than History's 9pm time slot (in which the show airs):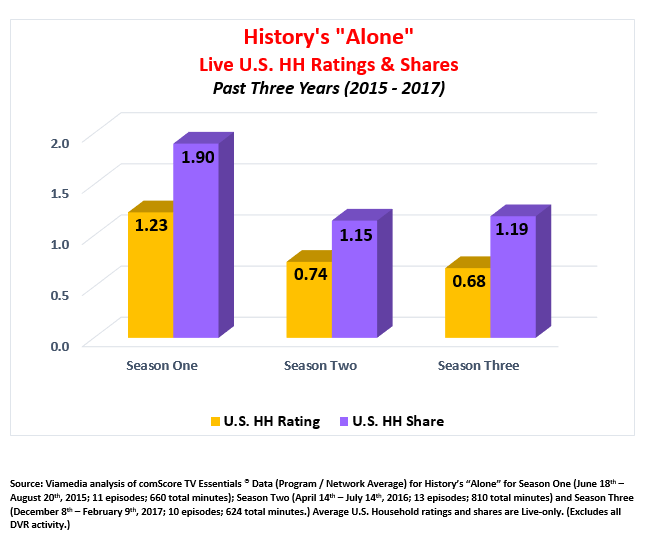 But Live cable ratings are only half the story. Indeed, the Live+ 15-Day DVR rating level is more than two-and-one-half times the level of Live-only viewing – a sure sign of viewer interest and engagement in the show: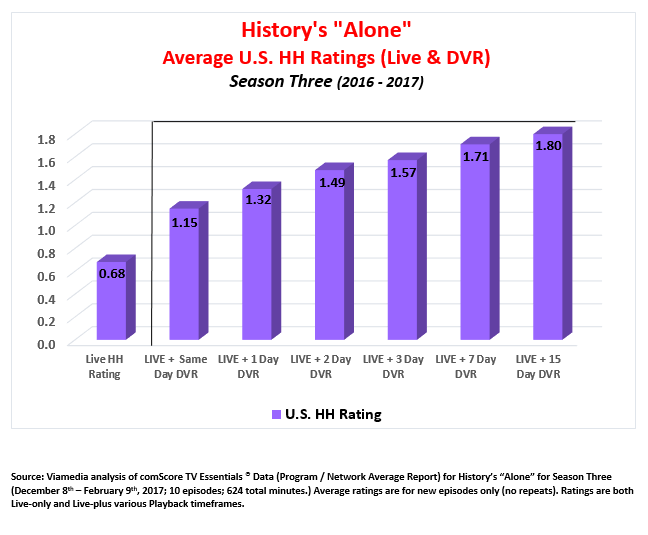 Small, Rural Market Skew
Not surprisingly, a survival show that focuses on wilderness and isolation has a very strong following in small, rural markets. In the chart below, we selected the Top 25 DMAs with the highest ratings through the first five episodes from last season. Two observations: 1) We see strong clusters of viewing in the State of West Virginia and upstate New York (5 DMAs apiece); and, 2) The median DMA rank in household size is 157 (out of 210 total DMAs.) In fact, the smallest DMA measured by comScore (Glendive, Montana at #210) is on the list, as well as #208 (Alpena, Michigan) and #206 (Presque Isle, Maine):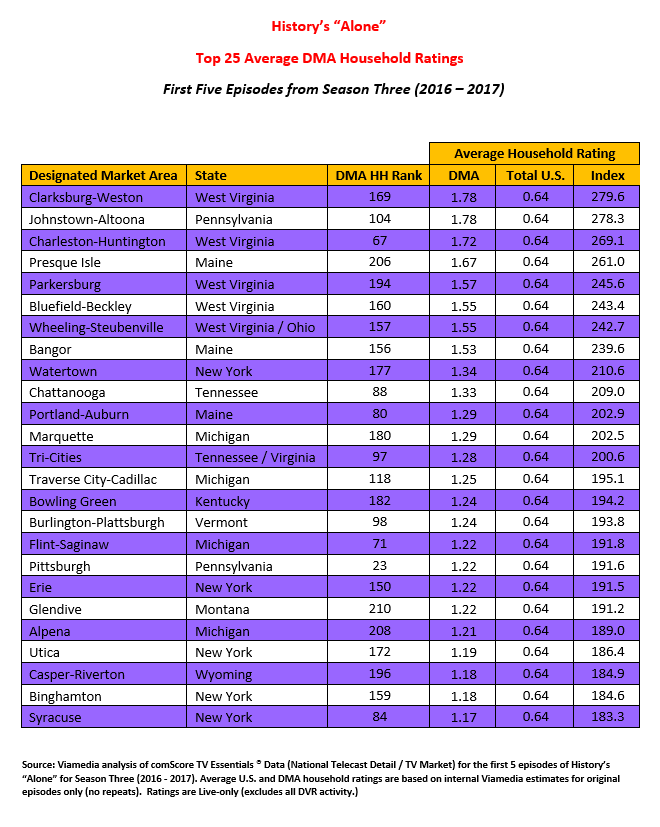 We took a deeper dive into the relationship between market size and viewing levels for "Alone", and found an inverse relationship between the two. We first ranked the entire DMA list (210 markets) from the largest market (New York / 7.35 Million HHs), to the smallest (Glendive, Montana / 4,370 HHs.) We then divided the markets into 5 equal groups (quintiles) of 42 markets each, and calculated the average household universe estimate and average household rating for each quintile.
As can be seen in the chart below, the largest market group (i.e., Quintile 1) has an average universe of ~1.72 Million HHs per market, which generated -- on average – the lowest household rating (.52). The smallest market group (i.e., Quintile 5) has an average universe of only 63,712 HHs per market. But these small markets -- many of which are quite rural -- generated the highest average HH rating (.97) – 86% higher than the largest markets: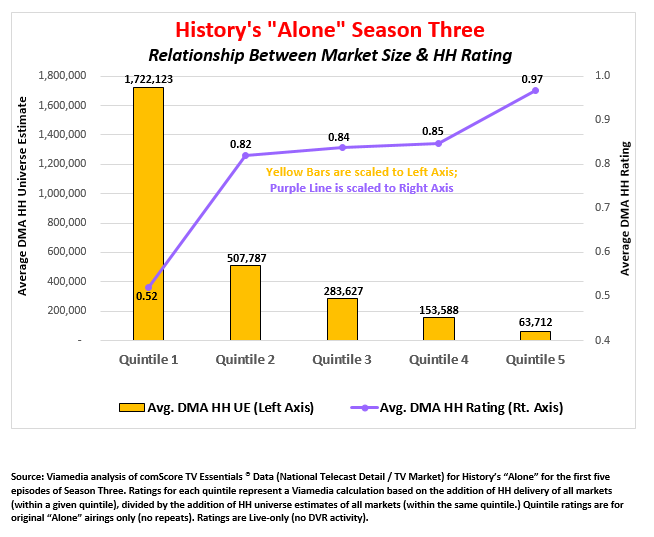 Local Cable Advertising
Over the past two seasons (Two & Three), local cable advertising support for "Alone" has been fairly robust. In all, 100 clients across 44 markets (more than half of Viamedia's national footprint) ordered nearly 1,100 30-second spots. That comes to an average of 11 spots per client. (Source: B.I.G.SM database -- Copyright © 2017 by Viamedia, Inc. All Rights Reserved)
Every outdoors reality series we've reviewed in this space captures above average levels of Automotive advertising, but we've never seen anything quite like the 75% share for "Alone" – a level nearly two-and-one-half times higher than what we see company-wide: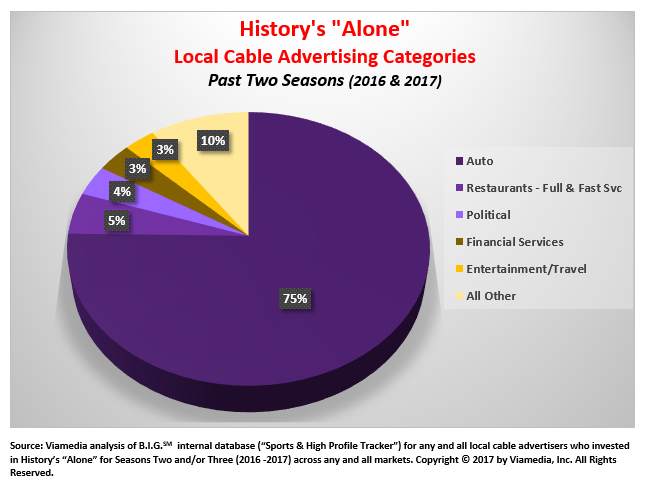 On to Season Four
In past blogs we've noted that reality series typically fall into one of three categories: "very real"; "kinda real"; and "really?" But I think History's "Alone" deserves a category of its own, like "this is as real as it gets!" Which is not to say I'm a great judge given that "roughing it" for me is staying at some roadside motel without a coffee maker in the room. But this show is certainly different, beginning with the fact each isolated contestant faces very real dangers, including starvation, freezing weather and predatory animals. And it's all recorded – not by a professional film crew – but with the survivalist's own hand held camera, which provides the viewer with an intimate (cinéma vérité) portrait of very brave men and women undergoing severe physical and psychological deprivations. It all makes for a compelling narrative that has injected new life into a genre (reality TV) that had grown a little musty and stale.