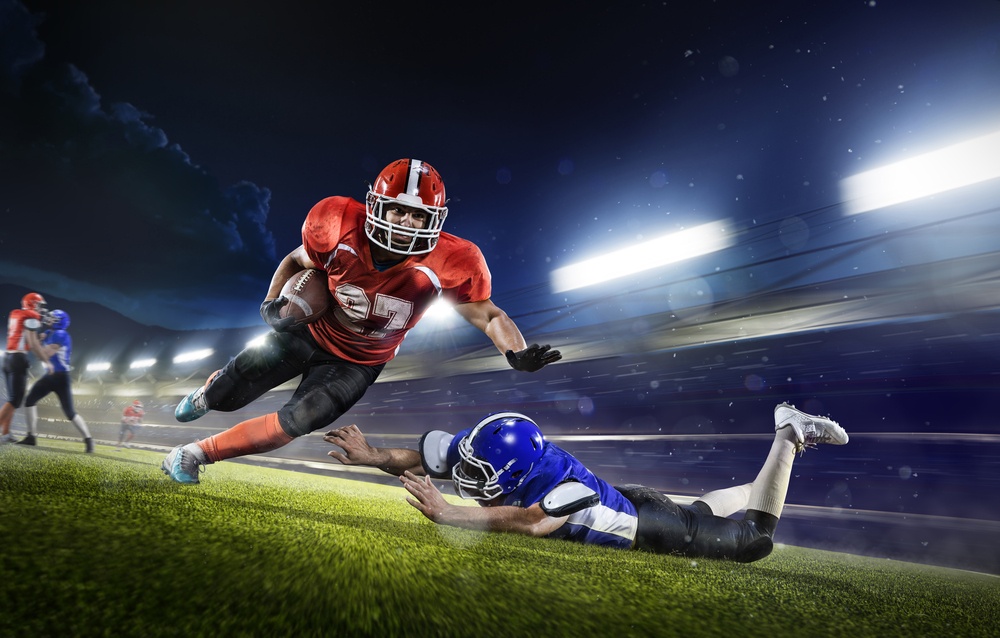 The football of my youth was an autumn sport, but the sheer fan frenzy for the game created an economic opportunity that NFL owners (and various media outlets) just couldn't resist. And, so, today practically anything and everything associated with the NFL is covered throughout the year… from the owners' meetings; the college scouting combine; free agency; the NFL Daft; rookie mini-camps; organized training activities (OTAs); summer training camps; exhibition games… you get the idea.
ESPN & NFL Network Deliver Solid NFL Ratings
But when the games count for real, you can count on ESPN (on Monday) and the NFL Network (on Thursday) to televise some of the most exciting games of the week – in all, 35 games last season that delivered solid Live U.S. household ratings and shares for both networks: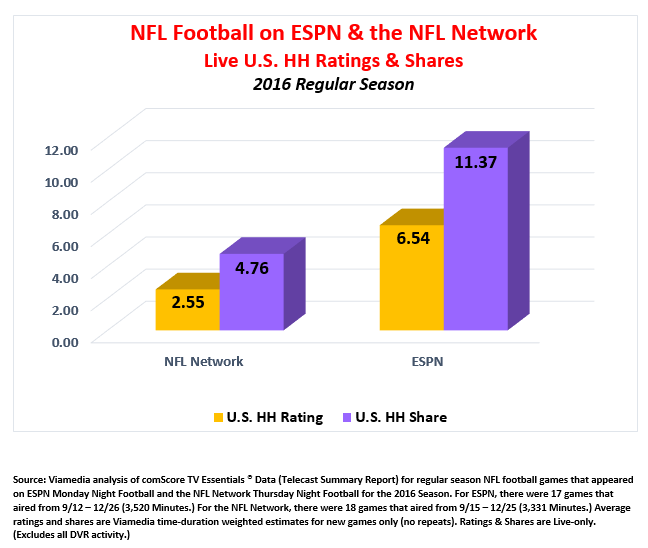 It should be noted that – despite strong audience delivery – both ESPN and the NFL Network delivered significantly lower viewing levels in 2016, a pattern seen for all of television – both broadcast and cable. There may be several factors that led to lower viewing, including: 1) a highly contested Presidential Election which drew viewers to various news channels; 2) migration of viewers to digital video; and, 3) too much of a good thing, with the NFL over-saturating fans with games on Monday, Thursday and Sunday evenings, along with traditional all-afternoon Sunday games.
Another factor may have been the national anthem protests by a few select NFL players, but whatever the case may be, an eroding audience did not fundamentally change the upscale nature of the typical NFL viewer.
NFL on ESPN Reaches High Household Income Audience
Based on data from comScore, NFL game ratings on ESPN were highest amongst homes with an average annual income of $175,000 – $199,000. And higher incomes are also associated with a better educated viewer (College Index = 110):
Local Market NFL TV Ratings
As is the case with all nationally televised team sporting events, the local DMA NFL ratings are typically higher in those markets that have a personal stake in the game (i.e., their hometown team.) But the real local market ratings story happens to be within those DMAs that are adjacent to (or nearby) NFL home team markets. And that's because – when a team appears on ESPN Monday Night Football – that team's home DMA market must simulcast ESPN on a local broadcast station. All of which serves to dilute ESPN ratings within the team's hometown DMA. But no such broadcast-carry rule applies for nearby DMAs, where fan support is usually as high (if not higher) than the team's home market DMA.
The heat map below makes this very clear. Last September, the Pittsburgh Steelers visited the Washington Redskins. The Pittsburgh DMA household rating of 7.61 was 6% higher than the national ESPN average rating (7.16). But in four adjacent DMAs – where local broadcast stations did not simulcast the game – the ratings soared with the Johnstown DMA rating 3-times that of the Pittsburg market: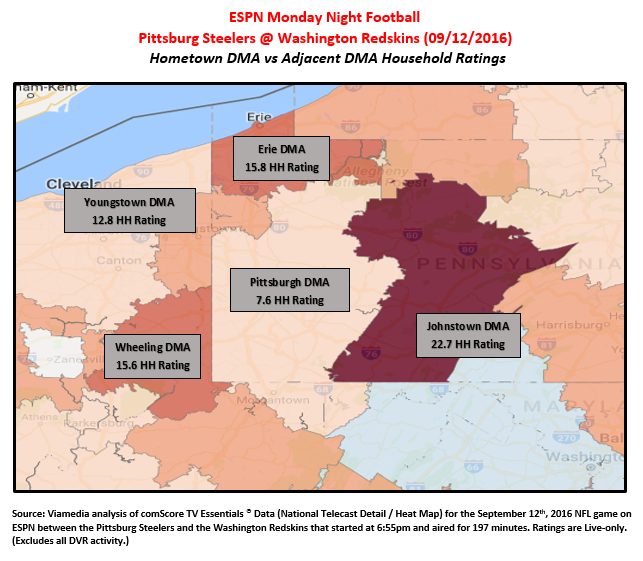 In the chart below, we've listed several ESPN games from last season in which the adjacent (or nearby) DMA ratings far surpassed that of the NFL team market: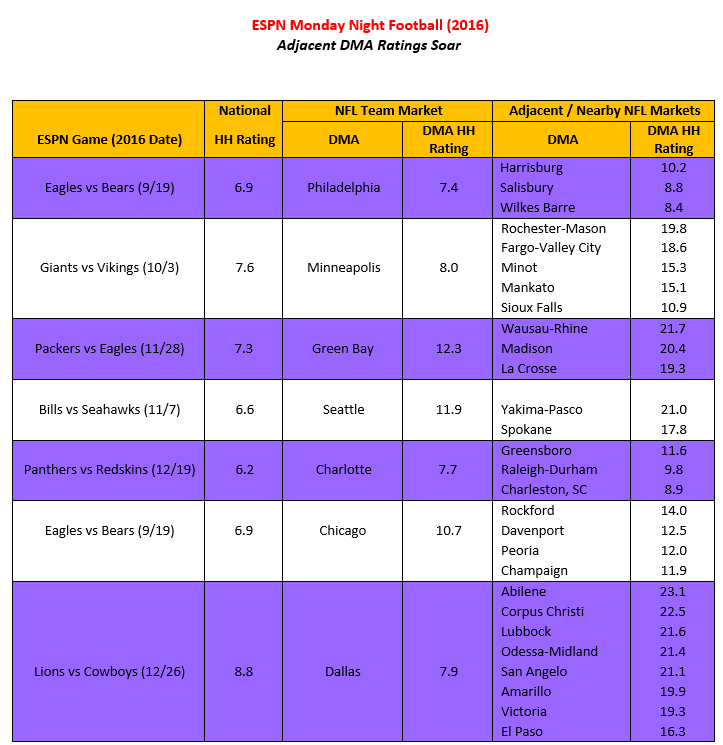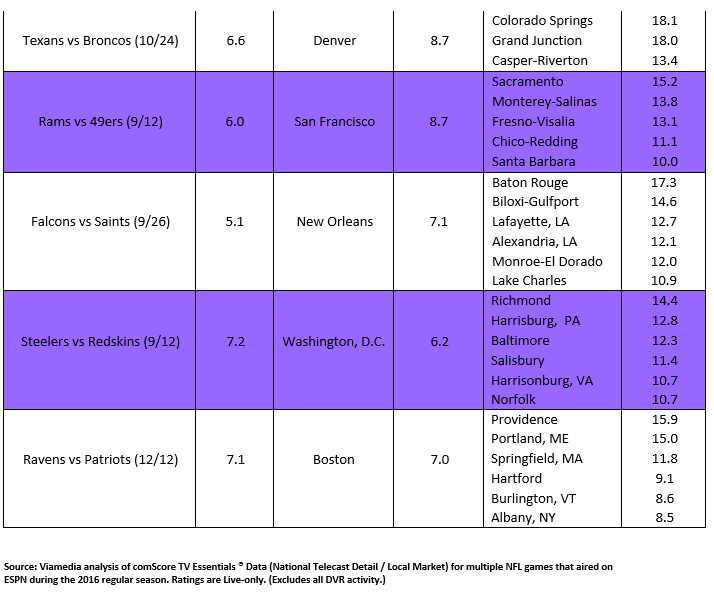 Local Cable Advertising Demand
Local cable advertising support for NFL games has been nothing short of spectacular! Over the past two regular seasons (2015 & 2016), nearly 2,000 Viamedia clients ordered over 72,000 30-second spots across 68 Viamedia markets (85%+ of our national footprint.) That comes to an average of 18+ spots per advertiser (per season.)
Source: Viamedia internal analysis of B.I.G.SM database. Copyright © 2017 by Viamedia, Inc. All Rights Reserved.
One investment pattern that is quite distinct is the rise in local market advertising share when that market's football team is scheduled to air on a national cable telecast. For example, on Thursday evening, October 6th, 2016, the NFL Network aired a game between the Arizona Cardinals and the San Francisco 49ers. The Cardinals home market of Phoenix represented 9.0% of total local cable advertising for the game, compared with that market's NFL advertising share of 2.4% for the entire football season: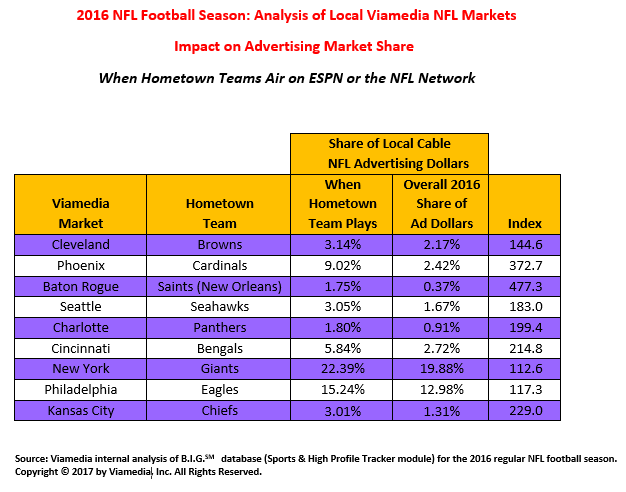 When it comes to major sports in America, it's not a question of which product category is #1, but rather just how dominant that category will be. And when it comes to professional football, the Automotive Category is very dominant, capturing 51% of all local cable advertising. Over 700 car manufacturers, local dealer groups and stand-alone dealerships (out of nearly 2,000 local cable clients) invested in the NFL over the past two seasons: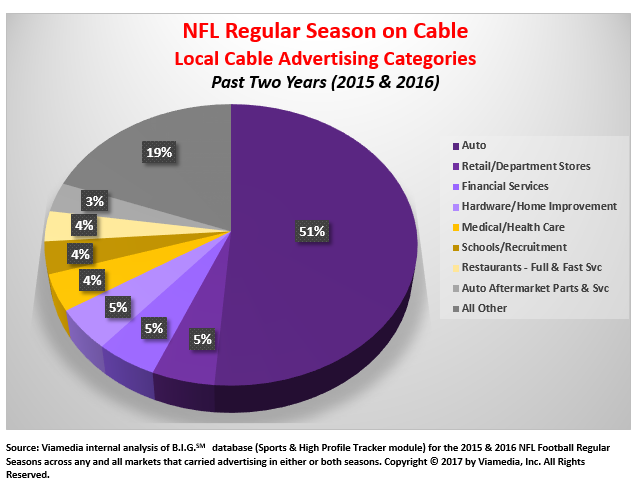 It's a Marathon
The Football Hall of Fame Head Coach, Bill Parcells, often remarked that the NFL Season was "…more a marathon than a sprint," which is counterintuitive given that a team only plays 16 regular season games. In contrast, Major League Baseball teams play ten-times that number!
But maybe what Coach Parcells was referring to is that the pro game is played at such a competitively ferocious level that only teams mentally prepared to compete on every play -- in every game -- have any real chance of making the playoffs (and a shot at the Super Bowl.) And given the sheer intensity of the game, the NFL has become the de facto "National Pastime," attracting the largest (and most passionate) American fan base, as well as advertisers seeking to reach them.
Check out the ESPN & NFL Network 2017 NFL TV Schedules here:
2017 ESPN Monday Night Football TV Schedule
2017 NFL Network Thursday Night Footbal TV Schedule